Marimo is a rare growth form of the Aegagropila linnaei algae in which the aquatic plant grows into large green balls with a velvet-like texture and appearance. It's also a natural treasure of Japan, as well as a popular pet.
Aegagropila linnaei algae has long been a mystery in biology, particularly due to its fascinating spherical growth form. The algae can be found in just a handful of aquatic environments located in four countries – Iceland, Scotland, Estonia, and Japan – and exists either as free-floating filaments, flat growths on rocks or green balls that can reach up to 40 cm in diameter. It's the latter that has fascinated both scientists and algae enthusiasts for centuries.
Marimo (literally "ball water plant") are particularly popular in Japan. The largest and most impressive-looking ones can be found in  Lake Akan, in east Hokkaido. For some reason, given enough time marimo her grow up to 40 cm in diameter, much larger that the moss balls found anywhere else. The lake is shallow, providing the conditions needed for Aegagropila linnaei to thrive, so the bottom is full of these giant, fluffy balls just waiting to be squeezed. Only you're not allowed to take those!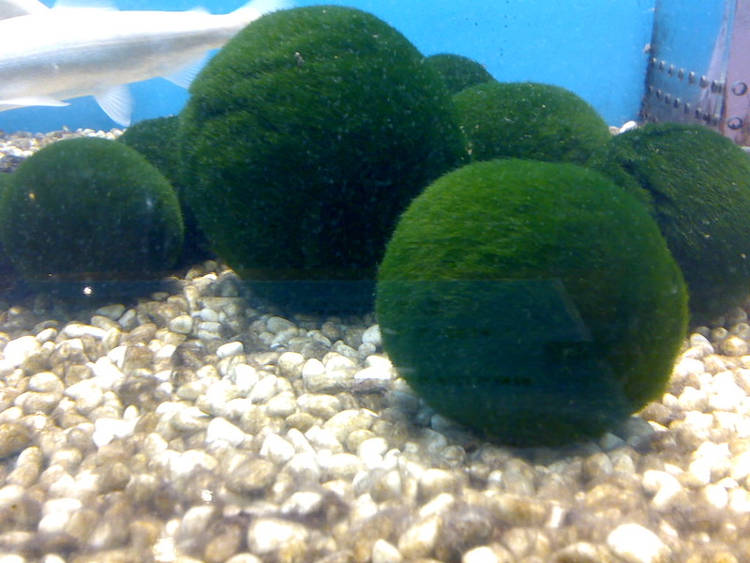 Photo: Hiroshi Miyazaki/Flickr
Japan has been fascinated by these rare algae balls for centuries and actually declared them a national treasure in 1921. Only that only made things worse for marimo, as people started removing them from their natural environments and selling them to tourists. At one point, the price of a marimo in Tokyo reached 1,000 yen (over $6,500 in today's money). Things got worse before they got better, as a water plant at Lake Akan caused the water level to drop dramatically, leaving hundreds of marimo exposed to die.
View this post on Instagram
The country's conservationist efforts started in 1950, when photos of piles of dead marimo were published in national newspapers and shocked the country. Dozens of people from across the country who had bought moss balls taken from Akan started returning them to their natural home. In honor of these people's generosity the first Marimo Festival was held on October 7th 1950, and it is still being held every year.
View this post on Instagram
Today, you can still buy marimo as souvenirs and pets, but they are artificially rolled from free floating filaments, not the natural kind formed by being rolled on the bottom of a lake by currents. Still, they are just as soft and velvety to the touch as natural ones, and can literally last a lifetime, if properly taken care of.
View this post on Instagram
Knockoff marimo – plastic balls with a thin layer of algae – are also popular, so take caution if you plan on buying one from a souvenir shop. True marimo are algae through and through; well, large ones are actually hollow on the inside because the thickness of the alga is limited to 5 cm from its surface, for photosynthesis.
View this post on Instagram
Marimo are low-maintenance pets. All they need is water to roll around in and some filtered sunlight. As long as they can roll around and get sunlight on all sides, they're good. If you notice brown spots on your algae balls, just roll them around to make sure they get sunlight on all sides, or add a bit of salt and ice to freshen them up. They don't like chlorine, so use filtered water and make sure to change it every few weeks.
View this post on Instagram
One thing to note about marimo is that they are very slow growing. They grow at an average rate of 5 mm per year, so to get a giant algae ball as the ones on the bottom of Lake Akan would take decades. But the good thing is that if you have the time to wait and care for them properly, they will actually live that long, maybe even outlive you.
View this post on Instagram
While marimo do grow, they don't reproduce on their own, so you'll never find yourself overrun by them. However, if you have a larger one and want to have two, all you need to do is split it in half, and re-roll them both into smaller spheres. They are made of free-floating filament after all.
Marimo pets are hugely popular in Japan, where the algae balls have not only inspired the country's weirdest mascot, Marimokkori, but also a smartphone app that helps users take care of their marimo. It has been downloaded over 800,000 times on the App Store alone.
As to why the Aegagropila linnaei algae grows into this ball shape that only becomes more spherical as it grows, scientists have formulated multiple theories. Some claim it's a defense mechanism, as although free-floating filaments can be swallowed by fish, ball-shaped colonies are not seriously damaged by feeding fish. Others say that the spherical shape might help them roll back into the water when they get washed up on shore. Finally, the rolling action can help wash off any sediment accumulated on the surface. But these are only theories; the truth is that virtually nothing is known about why they form these ball-like structures.
Sources: Tofugu, Nature, Wikipedia