Emma Tapping, a mother-of-three from the Isle of Man, U.K, first made headlines last year, when she was accused of spoiling her children by getting them 87 Christmas presents each. That didn't seem to bother her too much, as this year she bought even more gifts for them – 96 each.
After Emma posted a picture of her Christmas Tree buried in a mountain of presents, last year, it went viral and made the rounds online with the caption "Nearly time for all the materialistic parents to compete and broadcast how many presents their kids have on Facebook! Just remember there's some children' who don't get much." After being approached by various news sites and TV shows about her Christmas shopping habit and the effect it has on her kids, the woman said that she only spoils them on Christmas, because she loves seeing the joy on their faces when they're opening presents.
"If you ask me if I spoil my kids, I say at Christmas yes I do but I don't throughout the year. They get the necessities, the school uniform, the things they need but we don't go on holidays abroad or big shopping sprees," she said. "Anything they want, they get for Christmas."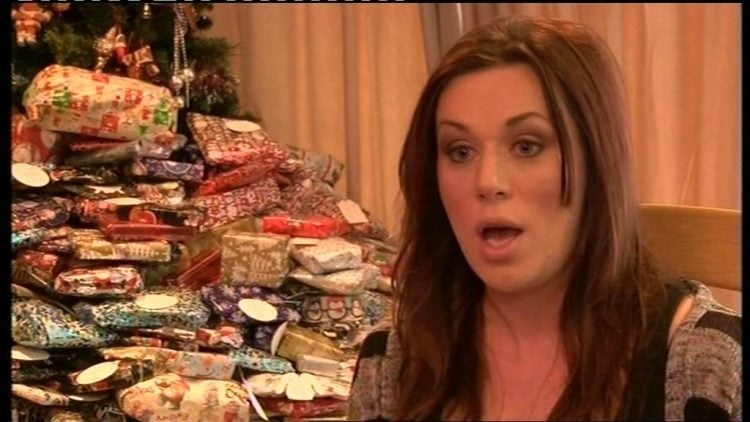 Photo: YouTube screengrab
Last year, Tapping was even accused of "abusing" her children by showering them with so many Christmas presents, but that hasn't stopped her from buying even more for them this year. "When it first happened I felt like I had to stick up for the kids and say they are not spoilt. I felt I had to justify what I was doing, but now I couldn't give a toss what anyone thinks," she told Channel 5. "I will put a picture of my Christmas tree up this year, if you don't like it scroll on and it is a good job I am not your mum."
Emma, who runs a holiday cottage, started buying this year's Christmas presents for her kids in July, and by the end of November she had already finished packaging everything. She has banned herself from going shopping until after Christmas because she is always 'tempted to buy more'. This way she'll have to stop at a whopping 96-presents per child. "This year they have a few more bits – 96 presents each. I am proud of this year's pile!"
As you can imagine, the kids – teenager Mia, nine-year-old Ella and toddler son Tatum – love her mother's Christmas present obsession. "I love getting the amount of presents we do, who wouldn't?", Mia said. "I wouldn't say we are spoilt. "Everything we might of got throughout the year we get on one day. I love it."
With all the bargains and discounts she got last year, Emma Tapping still managed to spend over £1,500 on Christmas presents, and probably even more than that for this year's Holidays. But she and the kids admit that some of the presents from last Christmas have gone unused after being unwrapped. "I couldn't be bothered putting it all away. Some of it got boxed on top of my wardrobe as there wasn't room for it," Mia said.
Sources: The Mirror, Metro