Muhamed Kahrimanovic, a martial arts master from Germany, has been dubbed 'Hammer Hands" for his ability to smash anything from coconuts to baseball bats with his bare hands.
Bosnian-born Kahrimanovic was a teenager when he moved to Germany with his family. He had been studying taekwondo since early childhood and continued his training in his adoptive country, eventually becoming an instructor himself. But Kahrimanovic would end up attracting international attention and setting several Guinness records thanks to this incredibly strong hands, which earned him the reputation of a real-life superhuman and the nickname "Hammer Hands".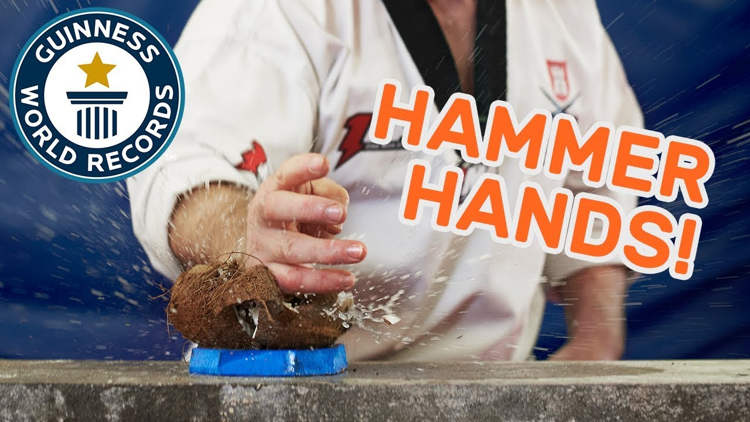 Photo: Guinness Records
At age 63, Muhamed Kahrimanovic was recently in the news for setting a new world record for the most number of wooden baseball bats smashed with bare hands in a minute, an impressive 68. But this was only the latest in a number of memorable achievements worthy of the name "Hammer Hands".
In the past, Kahrimanovic had also set a world record for most coconuts smashed with one hand no less than six times, with his latest achievement sitting at 148 coconuts smashed in one minute. In 2014, he set another impressive record, smashing 24 thick concrete slabs with his bare hand.
In August of 2019, Hammer Hands improved on one of his previous records, set in 2011, by smashing 97 beverage-filled aluminum cans in his home city of Hamburg. He also holds the world record for most glass bottles smashed with a bare hand in one minute, 66.
There are also videos of him smashing rocks or stacks of bricks and one where he tries to smash a glass bottle inside an inflated balloon, without popping the balloon. That last one was a bit too tricky for him, though.
Despite being a pensioner now, Muhamed Kahrimanovic doesn't show any signs of slowing down. During his most recent record-breaking attempt, he literally smashed through 68 wooden baseball bats in one minute, and even though some took two or three tries, he still breezed through the attempt.
For more superhuman abilities, check out the man who can twist his torso 180 degrees and walk backward, and the blind man who plays fighting video games professionally by sound alone.