An Indonesian fashion designer/Instagram 'rich kid' recently found himself at the center of an online controversy because of a fashion handbag he allegedly created from alligator tongues and an "ethically sourced" human spine.
Arnold Putra originally showcased the controversial fashion accessory on his Instagram account back in 2016, but it went relatively unnoticed until a a few days ago when a tweet about it went viral, sending thousands of people flocking to the young designer's Instagram, to check if the bag is real. Scroll down Putra's page to content from 2016 and, low and behold, the creepy bag shows up complete with a description that reads "alligator tongue and human osteoporosis spine bag by me". Obviously, people started asking questions…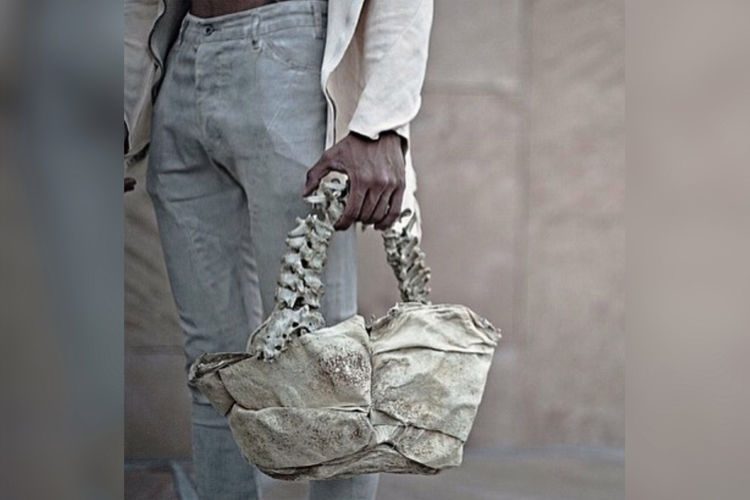 Photo: @byarnoldpultra/Instagram
The one-of-a-kind basket-style handbag was reportedly manufactured in Los Angeles and has a price of $5,000. In the description on @byarnoldpultra, an Instagram account different than the designer's personal one, the accessory is described as having the handle made "of an entire child's spine who had osteoporosis". The photos of the macabre accessory have been assaulted with negative comments in recent days.
"We all agree that this thing is a moral abomination, but what we're forgetting is that it's a total high crime against the concept of fashion, and even clothing itself," one Instagram user wrote.
"Such disrespect for the death of a child. Not to mention the alligators. This is not art nor is it fashion," another person commented.
The outrage around Putra's controversial handbag prompted several media outlets to launch an investigation into whether the handle was actually made from a human spine, and, if so, how it had been sourced. INSIDER contacted Putra himself about the handbag, asking him repeatedly if the spine had belonged to a child, but he declined to answer. Instead, he only said that the human spine had been "ethically sourced" from medical surplus in Canada.
Asked about the description mentioning a child who had suffered from osteoporosis, the Indonesian fashion designer said that the @byarnoldputra Instagram account was run by someone else and that he had only "contributed" to it.
INSIDER contacted two child osteopaths about Putra's handbag, and they both agreed that the handle was almost certainly made from a human spine, although they couldn't agree whether it belonged to a child.
Interestingly, the spine and alligator tongue bag is part of an unfinished collection "involving similar materials unprecedented in garment-making," which also includes leather jackets featuring hand-fastened genuine human ribs.