It's crazy what people these days will do for a bit of attention and some social media followers. Julia Słońska, a young model and online influencer with over 6,000 followers on Instagram, was widely criticized after a viral video shot by a friend showed her smashing the nose of a 200-year-old statue with a hammer.
Słońska has been forced to issue a grovelling apology after a video of her smashing the nose of a post-war statue in Warsaw received massive criticism online. Posted as a story by fellow Instagram user @advvx, the shocking video shows the young model holding a hammer and asking the person behind the camera if they are filming before proceeding to smash the statue's nose to smithereens. The pair then continue to laugh as they walk away leaving the now-noseless statue to be discovered by local authorities. Although Słońska has yet to reveal the motivation behind this act of vandalism, it is believed to have been a stunt meant to attract social media followers.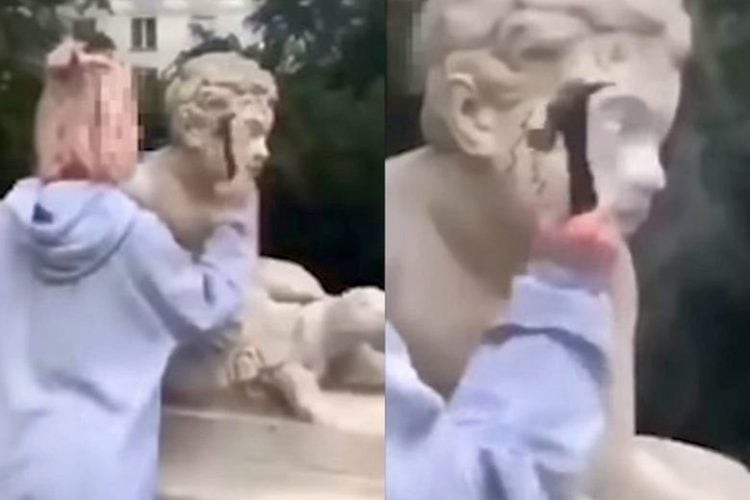 "What happened yesterday should not have taken place at all and seriously, I regret that I did it," Ms. Słońska is reported to have said. "I'm so stupid. I will not say what was driving me, why I did it, because it is more of a private affair, but I really wanted to apologize to everyone."
Her apology did little to stem criticism, as many continued to voice their outrage online, even calling for her to be arrested. The 18-year-old has also reportedly been dropped by online Polish bank mBank, who had hired her for an advertising campaign.
"We definitely do not support such behaviour, and the appropriate services should deal with it," a spokesperson for Mbank said, according to Metro.co.uk. As for the responsibility for what the actress does many weeks after the completed photos are taken – we cannot be responsible for the individual choices of such people. In this case, it's a role for carers. We do not plan to involve this girl in the next spots."
Julia Słońska has not posted on Instagram since the incident, and appears to have blocked comments on her account, presumably to stop people from criticizing her shocking actions.
As for the statue, it has since been temporarily repaired, but the difference in material is painfully obvious.