A family of migrant workers from Russia's Nizhny Novgorod region, recently returned to their native village of Zavod after a month of work to find their house partially demolished and an asphalt road passing through their property.
The Udalov family spend most of their time away from home, working in the nearby city of Nizhny Novgorod, but they always look forward to spending their short vacations at their quaint property in Zavod. Unfortunately, they no longer have a house to come back to, after authorities took the liberty to tear down part of it in order to make room for an asphalt road. No one contacted them about the project, so they just came back after a month to a partially demolished house and their belongings spread on the side of the new road traversing their yard.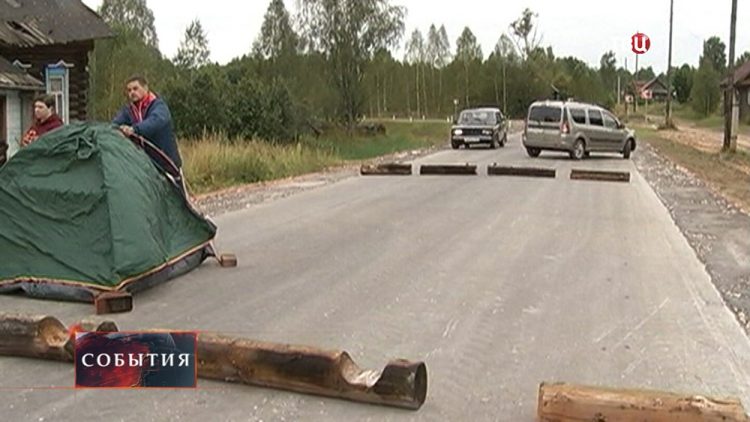 Valeria Udalov and her husband recently made news headlines in Russia, after placing wooden barriers on the new road and blocking traffic, as the section in front of their home it is technically private property. They even camped out in a tent on the road, since their old house looks ready to collapse at any moment. They vowed to keep blocking the road until authorities take responsibility and offer them compensation for damages caused.
The family has already contacted regional authorities about their problem, supplying their ownership papers as proof, but they have yet to receive a proper explanation. Officials initially claimed that the Udalovs carried most of the blame for being away for so long, which made contacting them about the demolition of their home impossible. They soon realized the stupidity of their statement, and came up with a more sensible explanation. Whoever drafted the plans for the new road failed to mention that the owners of the house had not been expropriated, so it was considered state property and the workers just plowed right through it.
The Udalovs refuse to clear the road until they are properly compensated for their home, so cars currently have to take a detour through the nearby field in order to get passed the roadblock. The family is demanding 3.6 million roubles ($62,000) from the local government, so they can build a new house.
Nizhny Novgorod authorities told Russian media that they are currently investigating the case and will make a decision within a week.