A 45-year-old man from rural Kenya is being hailed a hero by his community after single-handedly digging a one-mile road through a bushy area in oly six days, using only rudimentary tools.
The people of Kaganda, a small village 80km north of the Kenyan capital, Nairobi, had long been appealing to local government officials to start work on a short stretch of road that would shorten their daily trips to a nearby shopping center. Although the bushy area on which the road was supposed to be built had been earmarked by authorities, local leaders kept stalling the project. After a shorter footpath that Kaganda villagers used to get to the shopping center was fenced off because it passed through private property, the people were left with no option but to walk 4km every day. That's when a local hero decided to take matters into his own hand and dig the much-awaited road himself, for free.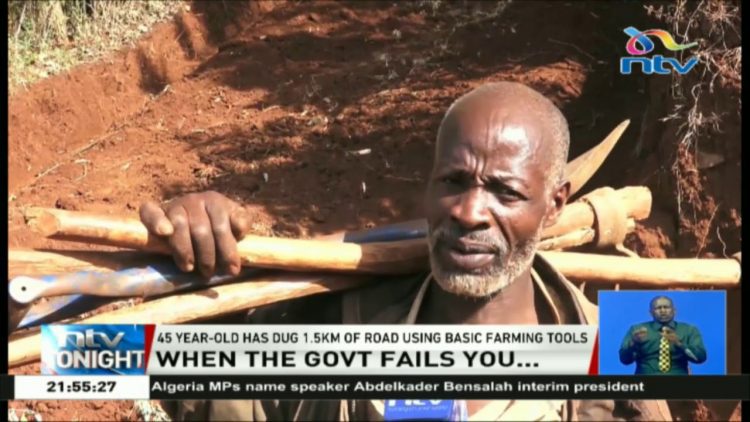 Photo: ntv Tonight/Youtube
Nicholas Muchami, who earns a living doing odd jobs during the day and working as a guard at night, volunteered to single-handedly dig a 2km stretch of road, using only farm tools. Working tirelessly from 07:00 to 17:00 for six straight days, the 45-year-old man managed to clear 1.5km of the bushy area, creating a dirt road just wide enough for cars to drive on. Even though he still has half a kilometer left before he completes his task, his achievement has already made international news headlines.
"I had made desperate appeals to the local leaders to have the road built but all in vain," Muchami told Daily Nation. "It was then that I decided to build it using my farm tools for the sake of women and children and to save time."
Muchami has taken a break from working on the road in order to get back to his casual labour and support himself, but he plans to clear the remaining section and then level the entire road. Even though it has yet to be completed, the new road is already being used by students and pupils of Kaganda Secondary School and Kaganda Primary School as well as the other locals.
"We owe him a lot," 68-year-old Josephine Wairimu said of Muchami. "In fact I will be marshalling locals to at least give him food to eat as he works on the remaining part of the road. I am also happy that I will now resume going to the church, two years since I stopped due to the poor state of the road which is also on a hilly area. My body is weak."
Interestingly, despite seeing Nicholas digging away at the road for six days, none of the people in Kaganda offered to lend him a hand, because they didn't want to the work for free. In fact, the 45-year-old "hero" told the BBC that many people that passed by asked him if anyone was paying him.
"When I was working on the road, people would ask me, 'Are you being paid'?" he said.
Nicholas Muchami's story went viral on social media last week, and many hailed him as a hero and true patriot, and at the same time condemned local authorities for failing to do their duty. Many asked the government to at least complement the man's work and upgrade his dirt road.
This remarkable man reminds of several other selfless heroes who sacrificed their time and sweat for the good of their communities, people like Dasrath Manjhi, the man who moved a mountain, Melethuveettil Sasi, a disabled man who spent three years carving a road through a hill, or Huang Dafa, the head of a small Chinese village who spent 36 years digging a water canal through three mountains to bring water to his isolated community.