The only thing worse than singing for over 100 hours straight is finding out that it was all in vain. That's what happened to Dominican singer Carlos Silver who, after performing for 106 consecutive hours in an attempt to set a new world record, learned that his attempt was disqualified by Guinness.
Last week, Dominican artist Carlos Silver performed over 5,000 songs in an attempt to break the Guinness record set by Indian singer Sunil Waghmare, who in 2012 sang for 105 consecutive hours. This was Silver's second shot at the record for world's longest singing marathon by an individual, after his unsuccessful attempt in 2016, and this time it looked like he had done it. At the end of his epic 5-day performance, the timer showed that he had been singing for 106.7 hours, over one hour more that Waghmare's record, but his elation soon turned to disappointment, as Guinness officials disqualified him for breaking the organization's strict rules.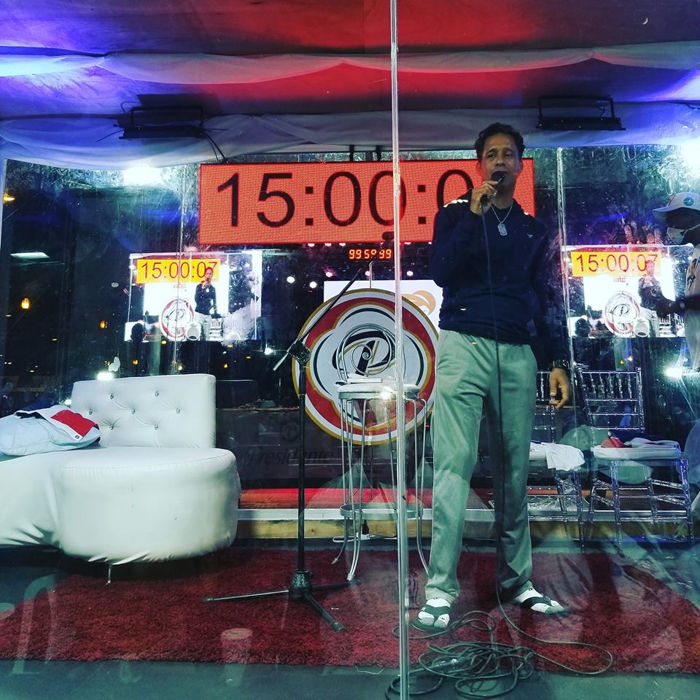 Photo: Carlos Silver/Facebook
According to Guinness Records, video evidence from Silver's performance shows him taking breaks of up to 2 minutes between songs, although the rules clearly state that for the attempt to be valid, the performers are only allowed 30-second breaks. While Carlos Silver doesn't deny that he sometimes took slightly longer breaks, he claims that he also jumped from one song to another instantly, which should compensate for the occasional extended break.
"I gave Guinness an extra 6,420 seconds, and they took away my record for taking 30 seconds longer between a few songs," a disappointed Silver said in an interview, referring to the number of seconds he beat Waghmare's record by. He added that Guinness officials were too methodical and that they should understand that he is human, not an android.
The Dominican singer recently appeared on the country's Canal9 TV channel with an oxygen tube in his nose, and thanked everyone who showed up at the Eugenio María de Hostos park, in Santo Domingo, to see him perform. He claimed that he didn't need a paper certificate from Guinness, as the big heart of the Dominican people is good enough for him. Still, he doesn't plan on letting Guinness off the hook that easily.
" I will sue them, even if I have to go to an international court, because the evidence is there," CostaVerdeDR quotes Silver as saying. "I want them to review the attempt amicably, because I paid one and a half million pesos ($29,630) to get them here, they didn't come out of the goodness of their heart."
Carlos Silver claimed that during his 106-hour performance he suffered "50 electric shocks in his brain" and suffered two heart attacks, but didn't say anything because he was willing to put his life on the line to set a new Guinness record. He added that at the end of his attempt, he had lost his voice completely.