A 28-year-old man from Pakistan has become known as the Tarzan of Karachi after spending the last eight years of his life living in a makeshift treehouse in the city.
Farman Ali became somewhat of an overnight social media sensation after footage of his unusual home went viral on social media a few weeks ago. People were fascinated by the young man who managed to live in a modest treehouse for over eight years, but as he keeps telling everyone who asks, he didn't do it by choice. After losing both his parents, Ali was simply too poor to afford any kind of conventional housing, and after living on the streets for a while, he decided to build his own home in the only place where no one would bother him or drive him away – in a tree on public property.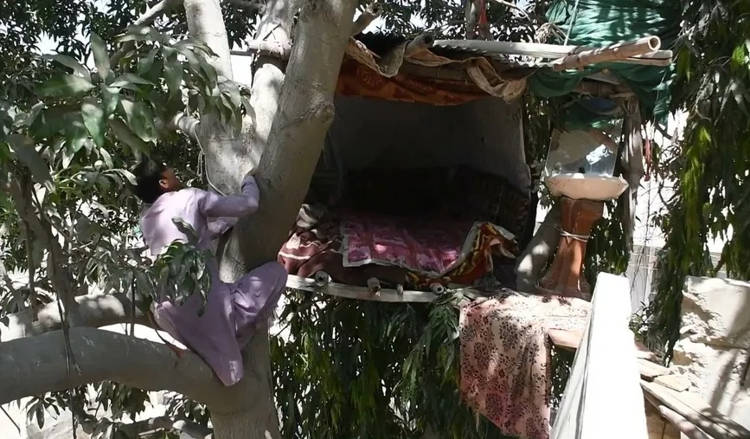 Photo: Ruptly
The Tree Man of Karachi, as Farman Ali is known by some in Pakistan's largest city, makes a living by washing cars, sweeping and cleaning outside people's houses and making groceries for others. Most of his clients pay him in cold water and food, and the little money is barely enough for his daily necessities, so he can't even think about getting a proper home.
The 28-year-old's story went viral in Pakistan, with many praising him for his grit and outside-the-box thinking. He was recently interviewed by international video news agency, Ruptly, and said that he only started living in a Karachi tree as a last resort. He knocked on every door he could, asking relatives and acquaintances for help, but no one wanted to deal with a poor man who had nothing to offer.
Ali said that he built his treehouse out of bamboo, wood and old doors, with cloth to protect himself from the wind and rain. Apart from a makeshift bed, he also managed to set up a sink to wash his face every morning, a small oven for cooking and heating water, and even a small, battery-powered light and a charger for his phone.
The young treehouse dweller told Pakistani interviewers that he was married at one point, but since he couldn't earn the 30,000 rupees ($165) that his partner was asking for per month, she eventually left him.
After appealing to authorities for help numerous times only to be ignored, Tarzan of Karachi said that at this point his hope lies only with the Almighty Allah.