Pattharapol and Lee Puengboonpra, a fashion-obsessed mother and son duo from Bangkok, Thailand, have achieved online and offline fame thanks to their impeccably stylish and perfectly coordinated outfits.
Six years ago, when Pattharapol "Peepy" Lee started posting photos of himself and his 60-something mother wearing flamboyant matching outfits on Instagram, he had no idea they'd soon become fashion influencers and online celebrities in their own right. A long-time fashion aficionado and former editor-in-chief of Hi! Magazine, he acted on a whim, and had no idea he'd one day have legions of fans showering him and "mother Lee" with compliments for their sense of fashion. The @peepy_and_mother_lee Instagram page now has around 130,000 followers from all over the world and the Thai pair are regarded by some in the fashion industry as the "world's best mother and son style" duo.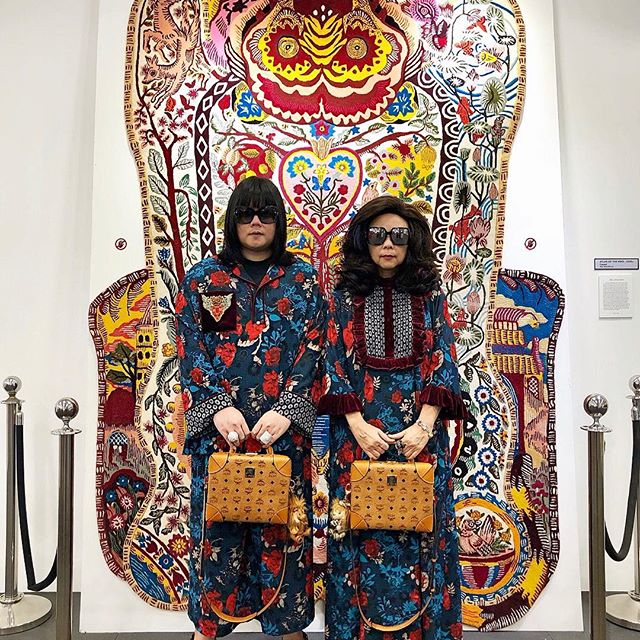 Photo: @peepy_and_mother_lee
Looking at the elaborate backgrounds and flamboyant outfits displayed in most of the photos on Peepy and Mother Lee's page, you'd think they spend most of their time planning photo shoots and traveling in search of the best locations, but in reality, they're all spontaneous and taken in the comfort of their Bangkok mansion. The clothes are all part of their own collection as well, and include both custom outfits commissioned by Peepy for both him and his mother, but also vintage items that Mother Lee has accumulated over the last three decades.
View this post on Instagram
"I don't even plan the shoots," Peepy recently told the South China Morning Post. "We do it whenever we like it, it's very spontaneous. It's all in my head and every piece in the photos is from our collection"
View this post on Instagram
Apart from Pattharapol's 14-year-career as a fashion magazine editor, the Lee family has no connection to the fashion industry. They've made their fortune in paint and chemical manufacturing, but both Peepy and Mother Lee have always been fond of fashion. The matriarch has been collecting designer bags and jewelry for decades, and Peepy fell in love with Louis Vuitton a long time ago. Thanks to social media, they now have the means to display their passion for fashion as a flamboyant duo.
View this post on Instagram
But despite their "in your face" appearance, Peepy and Mother Lee are both extremely media shy. Despite repeated requests over the last six years, they only recently did their first interview with an international publication, and seem in no rush to turn their online success into a lucrative business. They just genuinely love fashion and this project has given them the opportunity to bond as mother and son. It's perhaps this authenticity that has made them so popular.
View this post on Instagram
View this post on Instagram
View this post on Instagram
View this post on Instagram
View this post on Instagram