The United States of Kailasa, a non-existent country created by a controversial Indian guru, somehow managed to sneak into two United Nations meetings this year.
Founded by Indian fugitive and self-proclaimed godman Nithyananda Paramashivam, the United States of Kailasa claims to be the first sovereign state for Hindus. However, you'll have a tough time trying to locate it on any map, not because of its size, but because no one knows where it actually is. In 2019, when Nithyananda announced the formation of Kailasa as a state, he claimed to have bought an island off the coast of Ecuador as its headquarters, but the government of the South American country denied any knowledge of the transaction. The controversial guru hasn't made any public appearances in the last 4 years, but the fictional nation's ambition has grown, and this year its representatives have attended two UN meetings.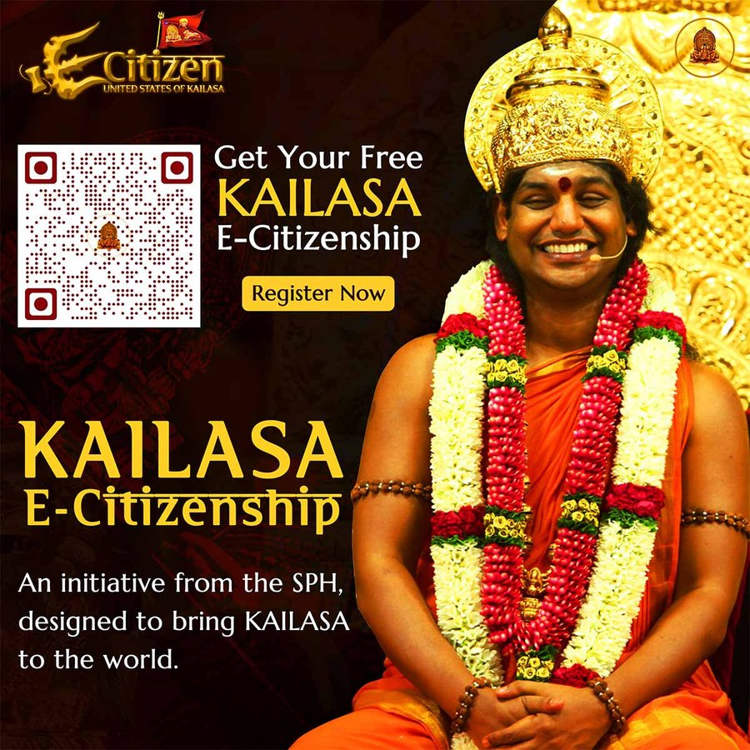 Nithyananda Paramashivam, known as the "supreme pontiff of Hinduism" by his followers, has a rather complicated past. A female disciple had accused him of rape in 2010, but he was only briefly arrested and then released on bail. He was later accused of kidnapping and confining children at his ashram in Gujarat, India, but days before he was due to show up in court, Nithyananda disappeared and has been on the run ever since.
Even though the so-called godman hasn't made any public appearances in recent years, videos of his sermons are regularly released on his many social media channels, and his followers have been pushing the idea of Kailasa as a state of "2 billion Hindus" really hard. It is claimed that the United States of Kailasa is a country for Hindus who are the victims of persecution, just like its founder…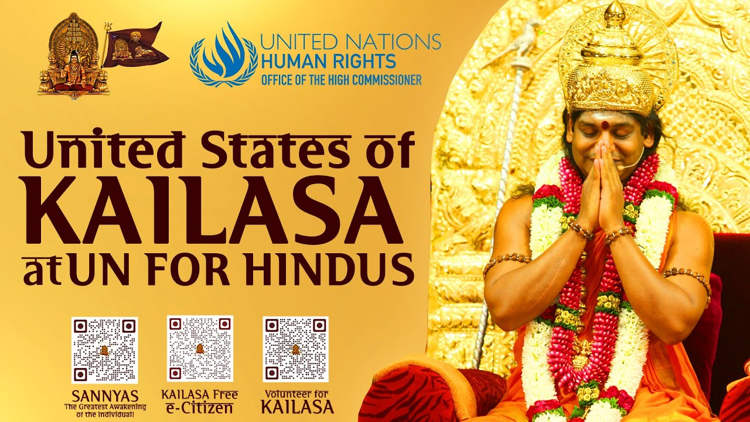 Nithyananda and his followers claim to be the victims of "persecution (for) over a decade including over 70 assassination attempts, over 250 sexual assaults, lawfare of 120 false cases, massive hate propaganda in electronic media of over 17,000 hours and print media of over 25,000 articles". They consider any attempt to bring their leader to justice as an attack on Hinduism itself.
Although the United States of Kailasa – named after a mountain in the Himalayas that is considered the home of the Hindu god Shiva – has been around for a few years, it only started getting international attention in 2023, after its representatives were spotted at a couple of United Nations meetings. A woman who introduced herself as Vijayapriya Nithyananda, "the permanent ambassador of the United States of Kailasa", even took the microphone and asked about "indigenous rights and sustainable development". A UN official later said that their submissions were "irrelevant" and "tangential" to the issues being discussed at the meetings in Geneva.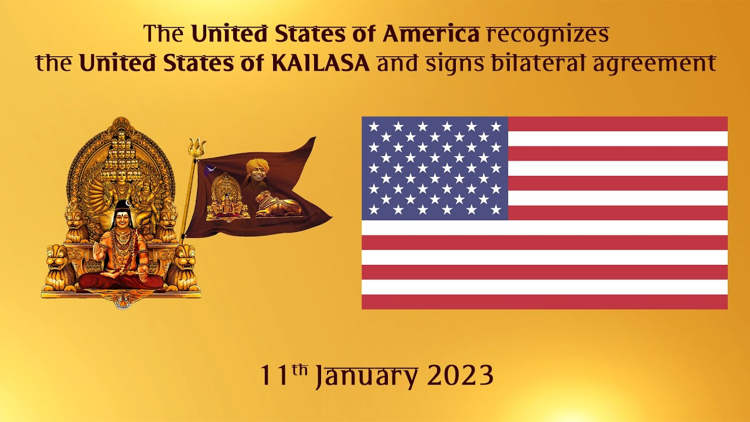 Describing Kailasa as the "first sovereign state for Hindus", Vijayapriya claimed that the country had provided necessities such as food, shelter, and medical care for free to all its citizens, although those claims are basically impossible to clarify. As to how the representatives of the non-existent countries gained entry to the meetings, a UN representative said that the events were public, so virtually anyone could attend. Still, being associated with a fictional nation founded by a controversial fugitive was not a good look for the UN.
In January of this year, the United States of Kailasa announced that it had been officially recognized by the United States of America, citing a sister-city agreement with the US city of Newark as proof. That agreement was recently rescinded by US authorities, suggesting that Newark officials had been deceived by the fictional nation's representatives.