Thousands of Porsche, Audi and Lamborghini cars have been abandoned on a cargo ship after it caught fire on its way from Germany to the United States.
The Felicity Ace was traveling from Emden in Germany when the crew announced a fire on board, last Wednesday. The 22-member crew has since been evacuated, but the ship and its precious cargo continue to burn, despite firefighters' best efforts to contain and hopefully put it out. The cargo ship was carrying an estimated 4,000 vehicles including Porsches, Audis and 189 Bentleys, some of which were equipped with lithium batteries. It has been speculated that one of these batteries could have sparked the blaze, and while has yet to be confirmed, firefighters say that the lithium batteries are now definitely "keeping the fire alive".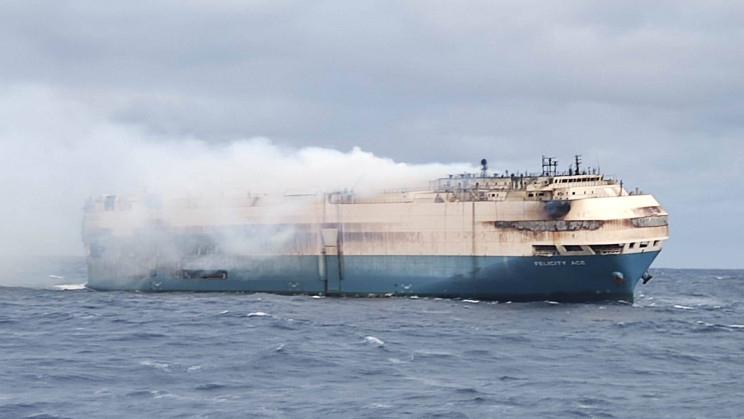 Photo: Portuguese Navy
After the crew was rescued off the coast of Portugal's Azores islands, Portuguese firefighters have struggling to contain the flames without actually going aboard the cargo ship, as that is considered too dangerous. The operation "has to be done very slowly," João Mendes Cabeças, captain of the nearest port in the Azorean island of Faial, told Reuters, so it could take a while.
As paradoxical as it may sound, putting a fire out in the middle of an ocean is very tough, especially under these circumstances. Using water would add extra weight, which could make the sip more unstable, and, to make matters worse, traditional water extinguishers cannot stop lithium-ion batteries from burning. So, for the time being, firefighters can only tackle the fire from outside by cooling down the ship's structure.
According to captain Cabeças, everything was on fire about five meters above the ship's water line, but it continues to spread further down, and it is getting closer to the fuel tanks of the cargo ship.
The owner of the Felicity Ace has reported plans to have the burning ship towed to a European port or to the Bahamas, but it is unclear when that will happen.