Remote Kiss, a bizarre phone accessory that recently hit the Chinese market, allegedly allows users to experience the intimacy of kissing even when they are thousands of miles apart.
Advertised as a way to allow long-distance couples to experience physical intimacy, Remote Kiss relies on pressure sensors, actuators, and soft silicone to recreate the user's kisses anywhere in the world, as long as the recipient also has a Remote Kiss and an internet connection. According to some sources, the weird gadget can even detect and replicate the temperature of a user's lips, as well as the sounds of someone's kiss. Remote Kiss has been available on Chinese online marketplace Taobao for some time now, but it only recently went viral after people started sharing photos of the product on social media.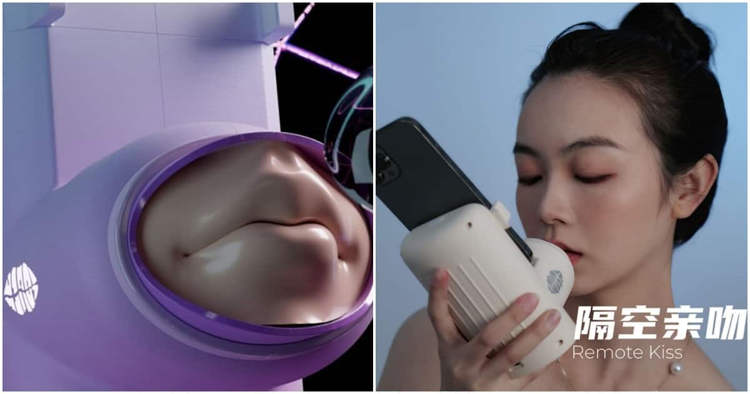 Photos: Taobao
Remote Kiss functions like a weirdly-shaped smartphone dock and only works when connected to a phone's charging port. It comes with a companion app that enables the connection between two different devices, while also asking for the consent of both users.
According to Global Times, the true inventor of this unusual device is Jiang Zhongli, a graduate of the Changzhou Vocational Institute of Mechatronic Technology. He created it a few years back as a university project and applied for a patent in 2019, but that patent expired this year and commercial versions quickly appeared online. Zhongli was surprised to see his idea become so popular and said that he hoped people would improve on his design.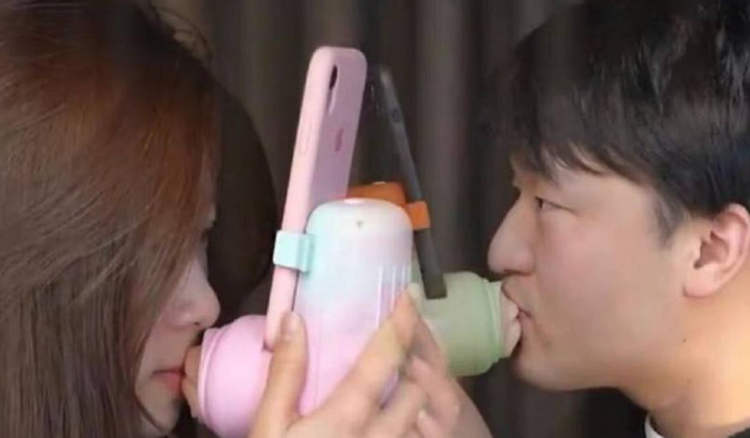 "In my university, I was in a long-distance relationship with my girlfriend so we only contacted each other by phone, that's where the inspiration of this device originated," Jiang Zhongli said.
The concept of "physical interface enabling kiss communication" has been around for a while, in fact, we wrote about two different such accessories in the past (both called 'Kissenger'). However, Remote Kiss has a couple of advanced features that set it apart while also making it more controversial. The 'kissing square' function of the app allows users to exchange kisses with strangers, and people also have the option of uploading their kisses for others to experience.
Remote kissing device for long-distance lovers, invented and patented by Chinese university student in Changzhou City.
The mouth-shaped module, served as an inducing area for lovers to make the kiss and then it can transfer kiss gesture to the "mouth" on the other side. pic.twitter.com/5i2ogMiUXe

— China in Pictures (@tongbingxue) February 22, 2023
Remote Kiss is currently available on Taobao at a price of 288 yuan (US$41), and before you ask, no, it doesn't come with a silicone tongue, although we don't doubt that someone will find a way to fill that need as well…