Children usually launch their toy pirate ships in their pool or bathtub, but two Scottish brothers decided they wanted their toy ship to tackle the high seas. They launched it from Peterhead, in Scotland, last May, and it has been sailing the world's seas and oceans ever since.
Ollie Ferguson (8) and his brother Harry (5), launched their Playmobil pirate ship into the North Sea as part of a bucket list of adventures that they put together. Their parents were more than happy to help out, preparing the ship for its maiden voyage. They toy ship had a counterweight added, to help it stay afloat, and its hull was filled with polystyrene to improve its buoyancy. But despite these modifications, no one expected it to still be sailing almost a year after being launched from Peterhead. It's currently passing by Guyana, in South America.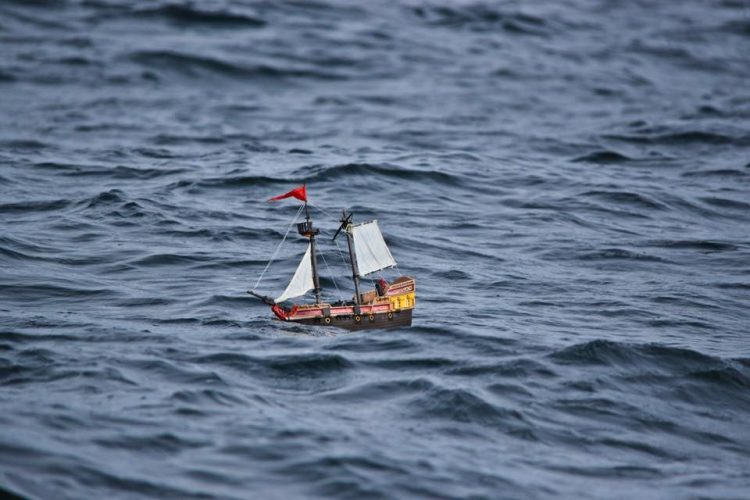 Photo: The Days Are Just Packed/Facebook
Named "Adventure" by the two Scottish brothers, the toy pirate ship originally sailed hundreds of miles from Peterhead, in Scotland, all the way to Denmark, where a family found it and set it on its way again. It then reached Sweden and Norway, and every time it reached a shore, someone would find it and launch it again. The Adventure carries a written message asking anyone who finds it to launch it back into the sea.
After being launched from the Norwegian shoreline, last year, the Adventure was taken aboard  the Christian Radich, a Norwegian full-rigged ship, and transported to a larger body of water that it could explore. Late last year, the Playmobil ship was launched off the coast of Mauritania, in the Atlantic Ocean, and it's been continuing its exciting adventure ever since.
It's hard to imagine anyone anticipating that the Adventure would last so long at sea, but Ollie and Harry's father did find the idea of tracking the toy boat on its voyage exciting, so before launching it into the North Sea, he partnered up with a leading GPS tracking company to have it equipped with a state-of-the-art transmitter. So they've been able to keep an eye on the Adventure's location ever since the beginning.
"The boys love it," their father, MacNeill Ferguson, said. "When they come home from school they ask if there is there any news about the ship."
They've also set up a Facebook page where they document the ship's progress and post photos and news about its incredible sailing adventure. Believe it or not, there's now an international community following this page and even helping the Fergusons by keeping an eye on the toy boat should it be sailing past their location.
It's been quite a journey for the toy pirate ship, but last week, it seemed to have come to an end. On "The Days Are Just Packed" Facebook page the Fergusons announced that the Adventure had not been transmitting its location twice a day, as it usually did. It had missed several pings, and everyone feared that its Atlantic voyage may have finally come to an end. However, yesterday, just when it looked like the voyage was over, the Adventure starting transmitting off the coast of South America.
So I guess the Adventure's epic adventure continues. And the icing on the cake is that the little pirate ship is actually heading for the Bahamas, home of the most famous pirates in history.
You can the Adventure's position here.