İbrahim Sedef, an experienced beekeeper from Turkey's Black Sea Region, has come up with an ingenious way of having his honey tested by the same bears that used to steal it.
Agricultural engineer and beekeeper İbrahim Sedef had been struggling to deal with thieving bears for over four months, but nothing worked. When he tried covering his precious beehives with steel cages, the bears toppled to get to the precious honey, when he reinforced the cages with a cement base, they just dug in the ground and toppled them again. Even raising the hives higher up didn't help as the bears just climbed up to reach them. So earlier this month, Sedef decided to stop looking for solutions and at least use the bears' appetite for honey to his advantage.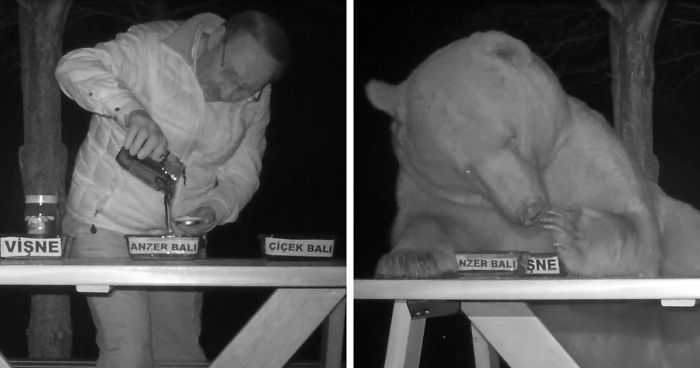 Photo: YouTube
"If you want your honey to be tested, thanks to the bears you can get it tested without bias or favoritism and with the utmost attention," the Turkish beekeeper told himself and proceeded to set up a testing desk on his property.
Sedef built a sturdy wooden table on his farm near the Turkish city of Trabzon and set up multiple night-vision cameras to capture the bears as they feasted on the multiple samples of honey on the table. He even offered them a bowl of cherry jam as a control, and over the course of four months, the cunning beekeeper got an unbiased rating of his honey.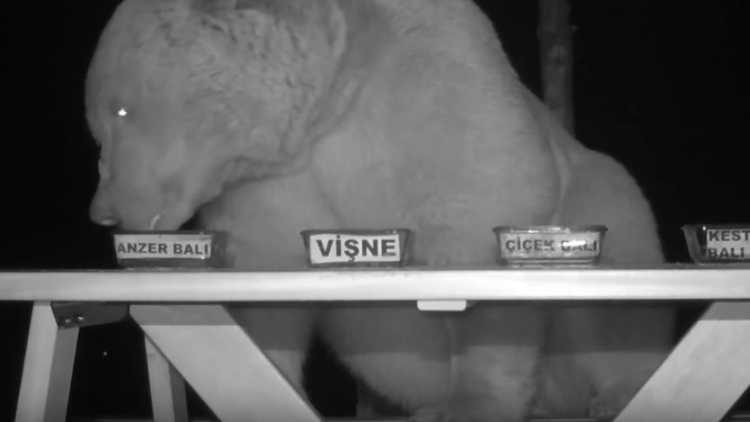 Photo: YouTube
"I changed the place of the trays and the tables, and every time they would start with the Anzer honey," İbrahim Sedef told Ahval News. "I said to myself, these big boys know their stuff, they prefer the expensive and quality honey. These big guys sure have good taste."
Anzer honey is produced from the nectar of 90 flowers that grow only in the mountains of the Anzer plateau, and is considered one of the most expensive types of honey in the world. According to some sources, a kilogram of Anzer honey can sell for up to $300.
Sedef told local reporters that he estimates having lost about $10,000 worth of honey to thieving bears over the last few years, but after having enlisted them as honey testers, the damage doesn't seem so bad.
"We're looking after bees on the one hand and bears on the other," the beekeeper said. "In spite of what happened, when I watch the recorded moments, I forget all the damage they caused me and I love them."