Hikmet Kaya, a retired forest technician from Turkey, is being praised as the main driving force behind an impressive ecological achievement – turning a barren hill in Sinop city into a green oasis of million trees.
During his 24-year tenure as Head of Afforestation at Boyabat Forestry Operations Department in Sinop's Boyabat district, Hikmet Kaya focused on afforestation, planting over 25 million saplings on a barren hill overlooking Sinop and turning it into a green oasis. He began work in 1978, and focused on afforestation in the steppe areas of Boyabat, relying both on specialized teams and the local community to transform inhospitable land into a green oasis for both humans and animals. Even though he retired in 2002, Hikmet Kaya's project lived on, and today he is regarded as somewhat of a local hero.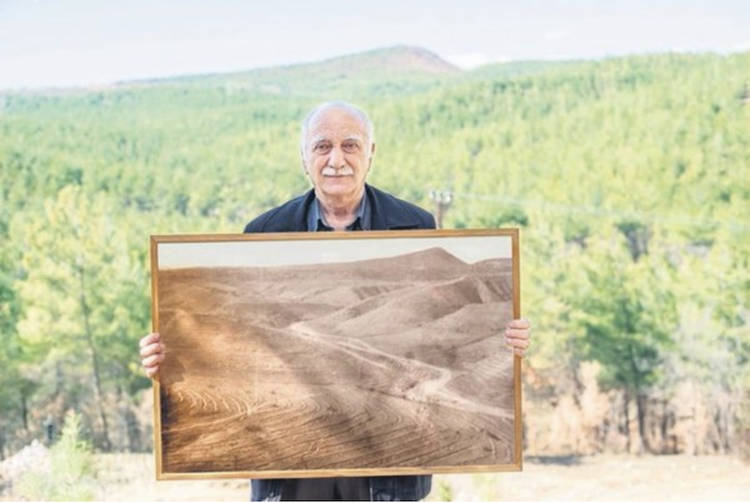 Photo: AA, İHA
Hikmet Kaya was in the news recently, after being invited to Sinop to celebrate his great work. Photos of him holding up a before-and-after picture of the area he helped transform recently went viral in Turkey, as they show just how much of a difference his work has done in a country where deforestation and desertification are huge issues.
"The transformation of those areas into forests has been my biggest source of pride," Kaya told reporters. "After many years, we have ensured that our district has more forest assets compared to those days. It is a very good feeling."
Although not many remember what the area afforested by Hikmet Kaya used to look like a few decades ago, it's worth pointing out that around 30 million saplings were planted during his tenure. The before-and-after images he was recently photographed holding show exactly what a huge number that is.
"Everyone should protect the forests with care," Kaya said when asked about the future.
Hikmet Kaya's achievement reminded us of other amazing eco-warriors we featured in the past, people like Sebastião Ribeiro Salgado, the Brazilian man who brought a subtropical rainforest back to life, or Ma Sanxiao, a double amputee who dedicated his life to planting trees. And who could forget the female Vigilantes who have been protecting a forest in India for over 20 years?