Ma Sanxiao, a 70-year-old double amputee and army veteran from Jingxing, North China's Hebei province, has pent the last 19 years of his life planting thousands of trees and turning the once barren hills surrounding his village into a small forest.
Ma was diagnosed with blood poisoning in 1974, while serving in the Chinese Army. His condition got worse after he retired, and eventually had both legs amputated because of it – his right leg in 1985, and the left one in 2005. After seven major operations and constant medical treatments, he could barely afford to take care of his family, and ,because of his disability, finding a job proved very difficult. His veteran subsidy was enough to cover his medicine, but he couldn't remain idle, so in 2000, after getting inspired by another tree-planting story on TV, the double-amputee started planting parasol trees in the barren hills around his remote village, with the intention of selling them for profit.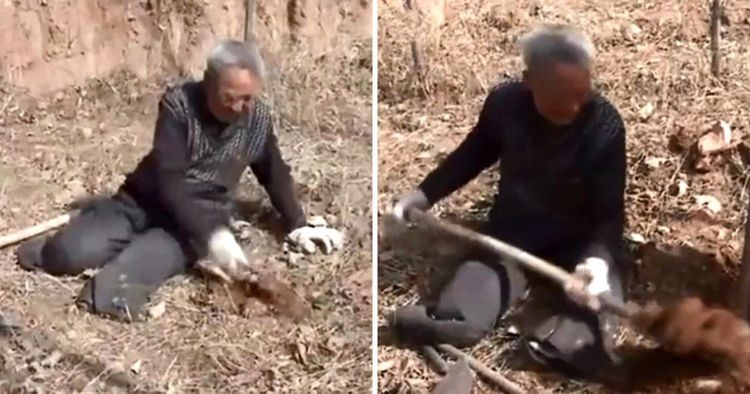 Photo: video screengrab
"Honestly speaking, making a living out of planting trees was also part of my idea at first. You know, I can sell them to make money and stand on my own feet financially," Ma said in a 2011 interview with China Daily. "But as the trees grew bigger and started to wrap the hills in a beautiful green, I became hesitant. They are not only beautiful, but also important to those hills because they can hold the soil."
After seeing the trees growing under his eyes every day and dealing with the sorrow of having some of them die due to the harsh conditions in the area, Ma Sanxiao got so attached to his small forest that decided he couldn't sell them, choosing instead to plant them for the benefit of others.
"I'll never sell these trees," the veteran said. "It's a great sense of fulfillment. I will continue planting trees until my last breadth and leave this green wealth to the country and future generations."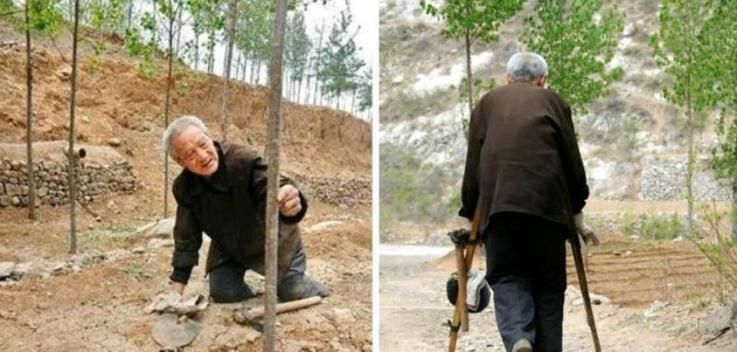 Photo: video screengrab
Ma gets up at 5am every morning, puts on some clothes, grabs his rudimentary tools and tree saplings and uses his crutches to reach the hills. He doesn't even eat breakfast in order to save time, choosing instead to pack his meal and eat it during one of his short breaks. He uses work gloves and a shovel to dig small holes in the ground, then plants tree saplings and crawls to an inlet nearby to water them. It's not the easiest work for a double amputee, and the 70-year-old admits that he has suffered more falls and injuries than he can remember.
"These difficulties didn't deter me, because I was a soldier," Ma Sanxiao said. "But I had to borrow money to buy saplings and all the tools. I can't count the broken shovels I used in those years."
The double-amputee's life changed in 2008 when Chinese media covered his story and volunteers started showing up to help him. The Chinese government also acknowledged his contribution to society and started offering him financial assistance. He could have just stopped them, as there were other able-bodied people more than willing to continue his work, but planting trees was what made him happy, so he kept doing it every day.
For the last 19 years, Ma Sanxiao has spent almost every day in the wilderness of the Taihang Mountain Range planting trees, and he now has a roughly 17,000-tree forest to show for it. Despite pleas from his family to take it easy and spend more time at home, he continues to expand his forest every day.
"To me, they are not trees. I consider them as the soldiers I have commanded. They make me feel very fulfilled," Ma said. "As long as I live, I shall keep planting trees for future generations."
Ma Sanxiao's inspiring story is reminiscent of other incredible tales of people who have dedicated their lives to nature. The achievements of "Forest Man" Jadav Payeng, who single-handedly planted a 550-hectare forest, have inspired a documentary, and the story of Anil and Pamela Malhotra, a couple who turned 55 acres of unused farmland into a sanctuary that consists of hundreds of endangered plants, animals and birds, has inspired environmentalists around the world.
And who could forget Abdul Samad Sheikh, the "Forest Man of Bangladesh" who planted at least one tree a day, for most of his life, or Antonio Vicente, the Brazilian who spent the last four decades of his life restoring a forest that had been razed for cattle grazing.