UK-based Anno Distillers recently launched what it calls the "world's strongest gin", a spirit so string that it comes with a small beaker for precise dosing, as well as clear mixing instructions.
With a 95% ABV, the Anno Extreme 95 gin is definitely not meant to be enjoyed straight up, not unless you want to feel what it's like to set your mouth on fire. Instead, its creators recommend it served as a "light G&T," using only 5ml of spirit, tonic water and a slice of grapefruit as garnish. To help you with those measurements, the new world's strongest gin comes with a small measuring beaker.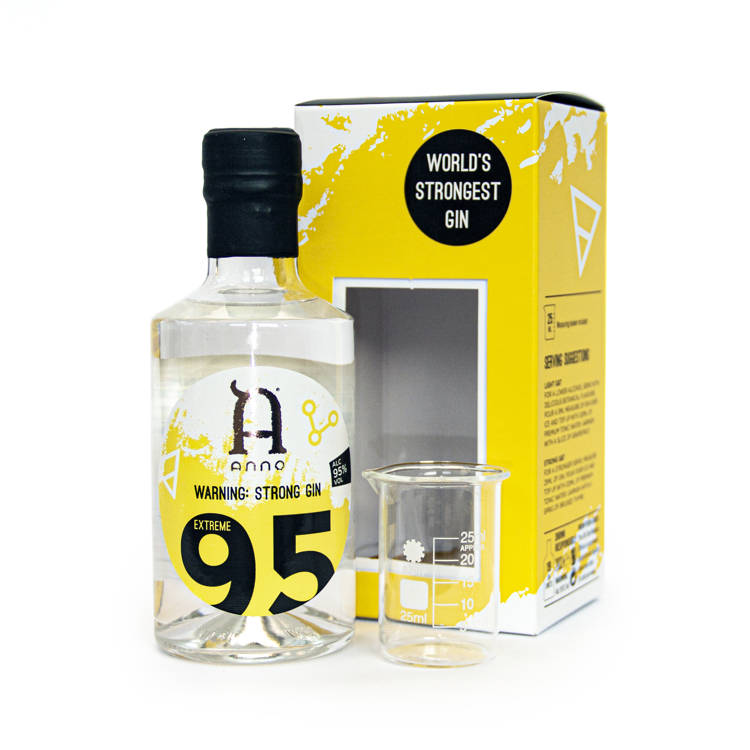 Photo: Anno Distillers
Created using "a high degree of rectification and a gentle heat, combined with creative use of steeping and vapor infusion," Anno Extreme 95 is not only extremely strong, but also  incredibly botanically rich, with notes of juniper, spice and liquorice coming through, if you can get past the 95% AVB.
"Just a 5ml measure gives you a full flavored G&T with 75% less alcohol (versus a 50ml measure of 40% Alc/vol gin)," Anno Distillers wrote in a press release.
View this post on Instagram
As some spirit enthusiast have pointed out, it seems a bit strange that a company create a product that at around 70 percent alcohol content would be classed as a hazardous liquid by most shipping companies, but maybe Anno Distillers just wanted to get their name out there, and going for a world record was the way to do it.
"With my 65th birthday coming just a few days before the launch, it's not only a fantastic way for me to celebrate such a big milestone, but it is also great to be flying the flag for both Kent and Great Britain, with a world record," Anno Distillers co-founder, Andy Reason, told SpiritedZine.
View this post on Instagram
With its insane 95% ABV, Anno Extreme 95 blows the previous holder of the title of world's strongest gin right out of the water. Created as "a deliberate attempt to push the boundaries of gin distilling to the extreme," the Ultra Uncut Strength Gin from Sweden's Strane brand only had 82.5% ABV.
Because it's so incredibly potent, Anno Extreme 95 gin comes in a small 20cl bottle, which at 5ml per serving, amounts to a superb 40 servings. A bottle currently sells for £30 ($40).