Popular Q&A online platform AskFM recently launched its own cryptocurrency, ASKT, and decided to celebrate by hosting an original giveaway. Instead of simply giving away some tokens to randomly selected winners, they buried a crypto-wallet with 500,000 tokens in it on Mount Everest and challenged anyone brave enough to go find it.
The Dublin-based start-up is similar to Quora or Yahoo Answers, and is currently the world's largest questions and answers platform in the world. But as part of its rebranding as AskFM 2.0, the company also launched it's own cryptocurrency token, which it plans to use to reward users for quality content. In an effort to raise awareness about its new crypto, called ASKT, AskFM came up with a controversial publicity stunt that involves challenging brave people to climb Mount Everest and look for a cryptocurrency ledger with $50,000 in tokens buried somewhere on the summit. It's 'finders, keepers'.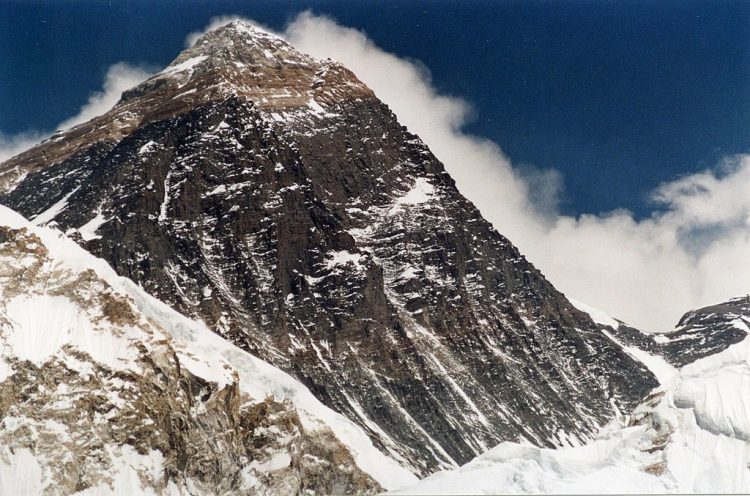 Photo: Uwe Gille/Wikimedia Commons
"If you're brave enough, go get them," the robotic voice narrating the AskFM promotional video challenges viewers. However, it conveniently fails to mention that a human life has most likely already been lost in the production of the video, and that others could follow, should some inexperienced climber decided to take AskFM up on their challenge.
AskFM had three Ukrainian mountain climbers take two ledgers of ASKT up on the top of the world. One of them was brought back down, while the other was buried somewhere on Everest. What the company's press release fails to mention, however, is that during the decent, one of the two Sherpas accompanying the climbers was left behind, and never made it back down. He is presumed dead.
"At the top of Everest the weather was very bad, and then we were coming down. We were going down to Camp 4, which is at about 7900 m, and one Sherpa was dying. That's all we know," one of the Ukrainian climbers told Financial Times. He was behind us, so we don't know what happened to him. "We were going fast and the Sherpa wasn't coming with us. He was coming behind so we didn't see him."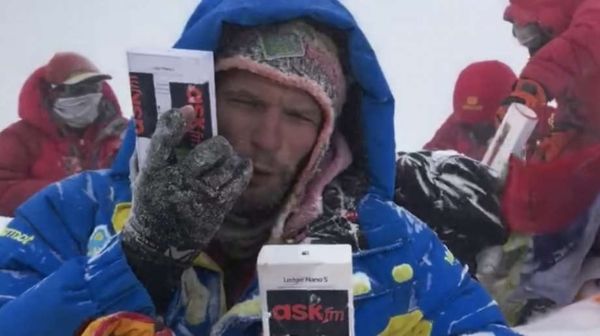 Photo: video screengrab
The Sherpa, identified as Lam Babu, was apparently a very experienced climber, having conquered three Everest summits, as well as three other 8,000 meter peaks—Cho Oyu, Manaslu and Annapurna— all in the Himalaya. Still, something happened, and he didn't make it back to camp.
One of the professional climbers involved in the stunt also suffered frostbite to his hands and feet, but he has since made a full recovery.
The publicity stunt was intended as a play on one of the most popular memes in the cryptocurrency world – "to the moon". The idea behind it is that the price of crypto will skyrocket and make the owner a rich man in the process. It was also meant to suggest that AskFM is not afraid to take risks and that their cryptocurrency token is superior to the others currently flooding the market.
It was no doubt an impressive stunt, but was it really worth the cost of a human life? And what if it's only the beginning. ASKT currently sells at 10 tokens for $1, so the 500,000 token buried on Everest is currently worth $50,000. But what if ASKT proves so popular that prices skyrocket? People may not be willing to risk their lives for a few tens of thousands of dollars, but what if that turns into millions, tens of millions? Climbers from all over the world will converge on Everest hoping to fulfill their dream of conquering it and getting rich in the process.
People will do the dumbest things for money anyway, did AskFM really have to give them another reason to risk their lives for financial gains?