Samelyn Lafuente, a young primary school teacher from Masbate City, in the Philippines, spent the last three years turning a bland classroom into a little girl's real-life fantasy, decked in pink and full of Hello Kitty-themed decorations.
Walking into Samelyn Lafuente's classroom, you would be tempted to think that it's an obsessed Hello Kitty fan's shrine to the popular Japanese character. The floor is covered with a Hello Kitty-themed carpet, the walls are all pink, as are the school desks, and there are Hello Kitty decorations everywhere, hanging from the ceiling, plastered on the walls and even in the windows. It would be fair to assume that parents of little girls in Ms. Lafuente's class must be struggling to pull them away from this real-life fantasy in pink every day, which is just what the teacher planned all along – to create a place where her students would be happy and enjoy their time at school.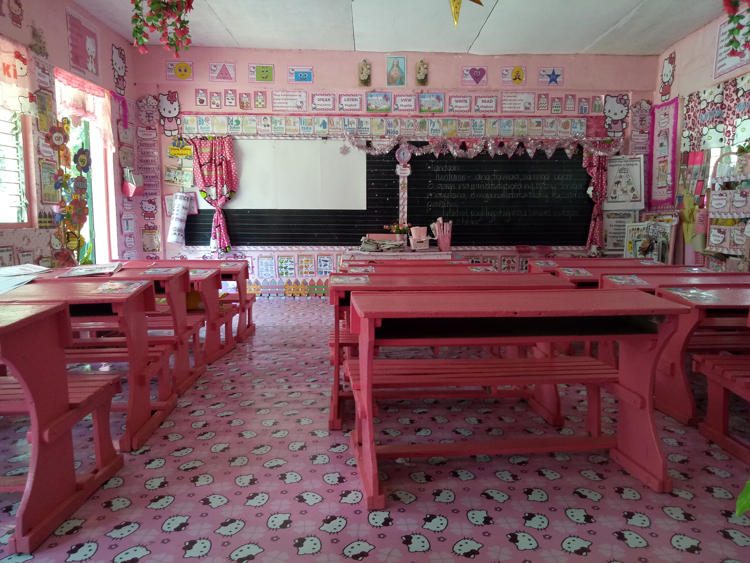 Photo: Glay Franco Bacolod/Facebook
Photos of this pink Hello Kitty classroom were shared on Facebook by Glay Franco Bacolod, and quickly went viral in several Asian countries, including in China. People are praising Samelyn Lafuente for going above and beyond to ensure the happiness of her young students, even if it meant paying for everything out of her own pocket. The teacher said that almost all the decorations in her unique classroom were bought with her own money, but that seeing the happiness in the children's eyes every day makes it all worth it.
Lafuente told GMA News that the transformation of her classroom occurred over the last three years, as she steadily added more pink and new decorations to it.
"I'm doing it for them, I love them," the teacher said.