eXp Realty, one of the world's fastest growing and most successful real estate companies, has become famous for not investing in any actual real-estate, opting instead for virtual reality offices that allow its agents and brokers to interact and socialize from anywhere around the globe.
Glenn Sanford, eXp Realty's founder and CEO, founded the company a decade ago, soon after the real estate market collapse of 2007. He couldn't afford to buy or rent office space, and figured that focusing on a system that allowed his team to work remotely would help the company avert disaster, should another real-estate crisis occur in the future. So eXp Realty relied on services like Google Docs and spreadsheets, project management solutions like Trello, and communications app Slack to help its workforce work together without actually sharing the same space. But three years ago, the company took this remote collaboration system to a whole new level, by building a campus complete with offices, meeting rooms, auditoriums, lounges and more, in virtual reality.
Photo: eXp Realty/Facebook
Dubbed 'eXp World', the company's virtual reality campus is a software that employees can download on their computer and access from anywhere in the world. It was developed by video game developer VirBELLA and is a lot like the famous Second Life online world, in that guests enter the world as avatars, walk around the campus, enter various virtual facilities, and interact with each other. While the main focus is on work and brainstorming, VirBELLA is constantly adding fun stuff as well, like the ability to go on boar rides on a virtual lake or enjoying a drink at the bar.
At the beginning of 2018, eXp Realty had around 6,500 brokers, but today that number has increased to over 12,000. They are operating in 300 markets across the US and Canada, and if that wasn't enough to convince you of its success, the company was recently listed on the Nasdaq stock market, with a first day market capitalization of over $1 billion. But it doesn't own or lease any more physical space than what it is required by law.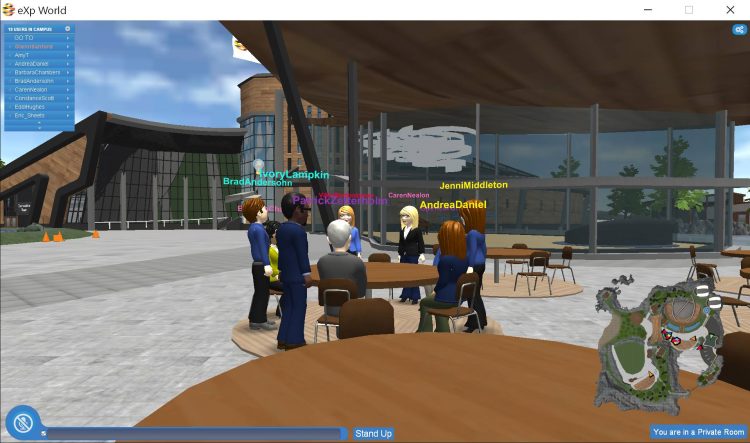 Photo: eXp Realty/Facebook
Apart from a small leased space in Bellingham, Washington, that acts as a headquarters but is actually just a storage space full of file cabinets, and a few empty locations in places where physical addresses are mandated by law, eXp Realty only exists in the virtual world. The real irony is that the whole purpose of the company is to help people buy and sell real world properties, like houses and office buildings.
"The virtual campus is a big part of our growth engine. If we were to have the constraints of physical offices, the growth we've had simply wouldn't be possible," Scott Petronis, chief technology officer of eXp Realty, told Singularity Hub.
Photo: eXp Realty/Facebook
Having a virtual campus in the virtual world rather than in the real one apparently has several major advantages. eXp Ralty can hire whatever talent they like, regardless of their location. As long as they have an internet connection, they can interact with their colleagues and the company management via avatars.
"Our people can collaborate and feel like they are really there together. They can have this experience like they are at an office, standing at a whiteboard, and can really have what is almost like a face-to-face conversation," Petronis said.
Photo: eXp Realty/Facebook
Then there is the cost reduction. Can you imagine the cost of brick and mortar offices for over 12,000 people? A brokerage company needs offices and training spaces for its employees, but the cost of leasing such essential spaces in the real world can be crippling for a real-estate brokerage business. However, eXp Realty can have all and any space they want by having VirBELLA developers write some more code and renting more cloud space.
"Typically for a brokerage business to grow, you need to go and find an office, fill it up with agents who bring in the revenue to pay for that office, before you can go and build another one. This is why you don't see a lot of national real estate brokerages, because the cost is so incredibly high," the eXp Realty CTO said.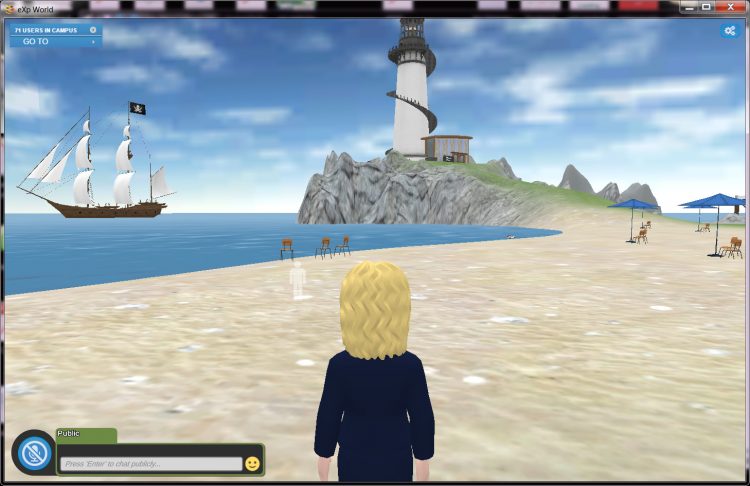 Photo: eXp Realty/Facebook
Plus, every time they decide to make changes to the campus, like build new facilities, or replace the virtual lake for a hiking trail, they don't need to hire a construction company and wait months for the chances to take place. Everything is just a few clicks away.
"We built eXp Enterprise with the entrepreneurial agent in mind. Agents can access their data when they want and how they want. eXp World offers a unique cloud technology solution that allows agents to gain instant, live support from eXp's agent services, technology and finance experts from wherever an agent or team is located," Petronis said.
I think it's fair to say that eXp Realty is light years ahead of other real-estate companies, as well as most other companies in general, and that it offers a glimpse into the not so distant future.