Welcome to Monowi, Nebraska, population 1. According to 2010 U.S. Census data, Monowi is the only incorporated town in the country with only one resident.
As the only person living in Monowi, 84-year-old Elsie Eiler, is the town's mayor, clerk, treasurer, librarian, bartender, among other functions. Every year she hangs a sign in the tavern advertising mayoral elections and then votes for herself. Federal law also requires her to produce a municipal road plan annually to secure state funding, and pay $500 in taxes to keep the water and electricity turned on. She also does the required paperwork to keep Monowi's incorporated status and prevent it from becoming a ghost town.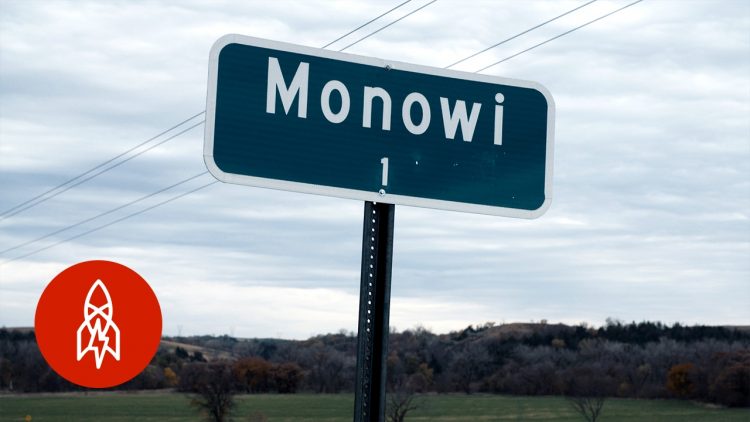 Photo: video screengrab
"When I apply to the state for my liquor and tobacco licenses each year, they send them to the secretary of the village, which is me," she told the BBC. "So, I get them as the secretary, sign them as the clerk and give them to myself as the bar owner."
"I'm happy here. I grew up here, I'm used to this, and I know what I want." Eiler added.
Back in the 1930s, Monowi was a stop on the Elkhorn Railroad with a bustling population of 150, three grocery shops, several restaurants, and even a prison. Eiler was raised on a farm on the outskirts of town and met her husband Rudy in primary school. After graduating from high school, Rudy enlisted in the US Air Force. While he served in the Korean War, Eiler moved to Kansas City to pursue work with an airline.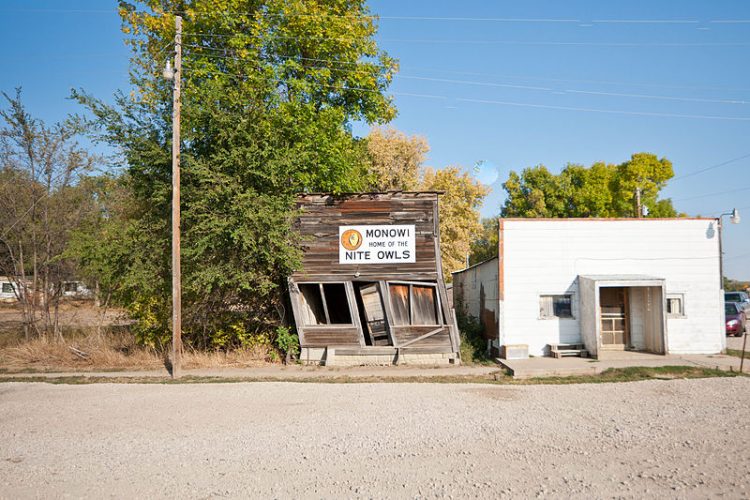 Photo: Andrew Filer/Wikimedia Commons
"I went to work for an airline with the dream of becoming a stewardess," she told BBC. "I didn't much care for the city; Monowi had always been home."
Eiler married Rudy at 19, and they raised two children in Monowi. In 1971 the couple decided to reopen the tavern that had belonged to Eiler's father. By the time the Monowi Tavern opened, however, the little town had begun its decline. After WWII, rural economies collapsed throughout the Midwest, and entire communities began to disappear from the US heartland.
In 1960 the church held its last funeral for Eiler's father, and then between 1967 and 1970 the post office and only remaining grocery store shut down. The school closed in 1974. In the mid-70s both of Eiler's children moved away to find work, and by 1980 the town's population had plummeted to 18. Twenty years later Rudy and Eiler comprised the entire population of Monowi until Rudy passed away in 2004.
"We probably have the record by going down in population 50 percent," Eiler cheekily told Reuters.
Despite living alone, Eiler says that she isn't lonely. Six days a week she opens the tavern at 9:00 am and spends 12 hours serving her regulars, most of whom she has known her whole life.
"It's like one big family," Eiler said. "There are fourth- and fifth-generation customers coming in. It's pretty neat when the people you remember as babies are now bringing their babies in to show me."
Aside from the tavern, there is one other public building in Monowi – Rudy's Library. An avid reader in life, Rudy's dying wish was to turn his private collection into a public library. Monowi now has a tiny public library with a selection of over 5000 books and magazines. Eiler, naturally, serves as librarian. A key hangs in the tavern for anyone who wants to check something out, using the honor system to do so.
When Rudy passed away, Monowi surpassed nearby Gross, Nebraska, (population: 2) to become the only incorporated town in the US with only one resident. In the 14 years since, visitors have come from all over the world to see the town and filled four guestbooks with signatures.
Eiler has five grandchildren and two great-grandchildren, from her two children. The closest of them live in Ponca, Nebraska, about 90 miles away, but others live as far away as the Netherlands.
"I know I could always move closer to my children or stay with them whenever I want, but then I'd have to make all new friends again," Eiler said. "As long as I'm able to be here, this is where I really want to be."