Breathtaking photos of vineyards in northern Italy lit up at night by hundreds of torches have been doing the rounds online for the past week. As temperatures unexpectedly dropped below zero last week, winemakers had to come up with a way to keep the vineyards from freezing, and fire was apparently their best choice.
Farmers usually do their best to keep fire away from their grape vines, but with temperatures expected to reach a freezing -9 degrees C, winemakers had no choice hundreds of torches spread out over several hectares to keep the vineyards from freezing. This technique has long been used by winemakers all over the world to create air movement, which prevents frost pockets from forming. Temperatures under -1 degrees Celsius can cause serious damage to emerging buds, so teams patrol the vineyards all night long, making sure that the fires are burning, to at least mitigate the damage.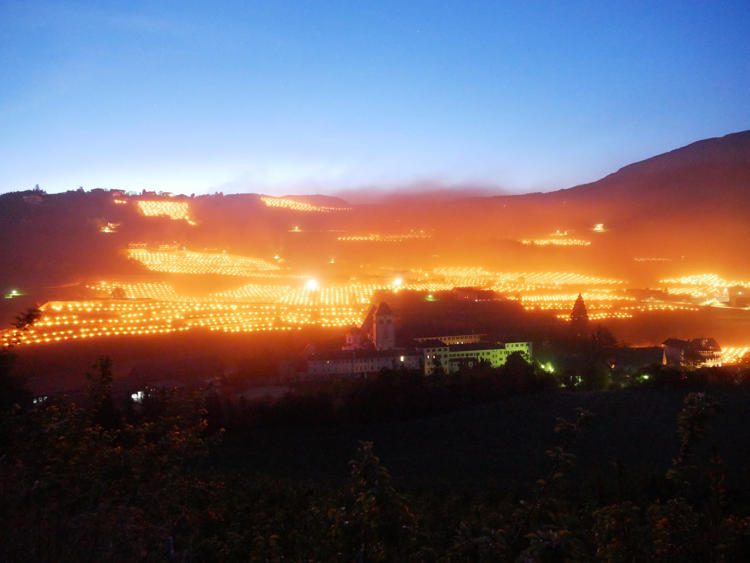 Photo: Abbazia di Novacella/Facebook
The visual effect created by lighting more than 300 torches over one hectare of vineyard is stunning, but to the winemakers, the warm air their create could mean the difference between a bountiful harvest an millions of euros in losses. The torches can reportedly raise the temperature by about three degrees Celsius, which could prove crucial during this unusually late cold snap.
View this post on Instagram
Winemakers in the Val d'Orcia in Tuscany, in Alto Adige, South Tyrol, and in neighboring Trentino, have all resorted to his tried and true method for keeping their vineyards from freezing.
via Ansa