Mount Fanjing, in southwestern China's Wuling mountain range, is home to one of the most otherworldly sights on the planet: two small temples built atop a split rock spire, connected by an arched bridge, overlooking a stunning natural paradise.
Perched at the top of the natural rock spire known as the Red Clouds Golden Peak, the two small Buddhist temples have a history that goes back over 500 years, to the Ming Dynasty. How Buddhists managed to carry the needed materials up that precarious rock formation without modern technology remains a mystery, but the temple complex we see todays has been rebuilt according to its original look, only using sturdier materials like iron tiles, in order to resist the strong winds and overall harsh environment.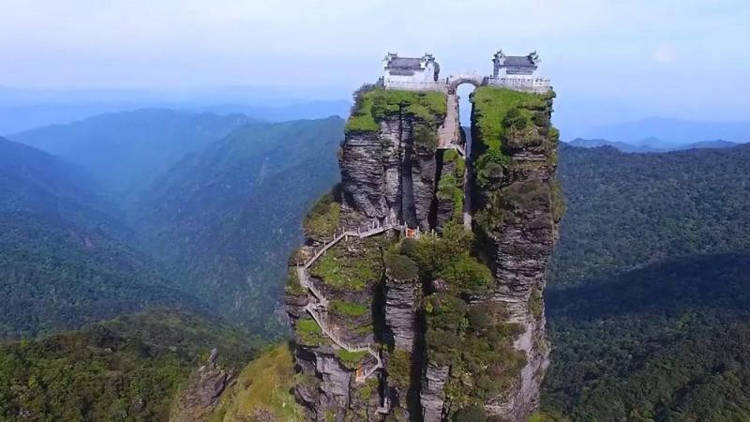 Photo: XinMedia
Although this amazing human achievement is sometimes referred to as Fanjingshan Temple, it is actually made up of two separate temples connected by a small arched bridge that hangs over the deep Gold Sword Gorge. The Temple of the Buddha is dedicated to Sakiymuni,  which represents the present, and the Maitreya Temple is dedicated to Maitreya, Sakiymuni's successor, which represents the future.
View this post on Instagram
In order to reach this heavenly place, visitors have to first climb more than 8,000 steps to first reach the Temple of Buddha on the south side of the temple complex. They can then walk across the bridge to visit Maitreya Temple on the north side, thus maintaining the present-to-future analogy.
View this post on Instagram
As you climb the thousands of steps along the cliffs, you can admire ancient inscriptions from the Ming (1368-1644) and Qing (1644-1911) dynasties, expressing the veneration of the holy mountain by the locals who made their way here centuries ago.
View this post on Instagram
The whole of Mount Fanjing is a sacred mountain in Buddhism, and considered to be the bodhimanda of the Maitreya Buddha. Historical materials show that Fanjiang was home to scores of Buddhist temples in ancient times, most of which were destroyed during the 16th century. Today, the mountain is home to about 50 Buddhist temples, not including the two atop Red Clouds Golden Peak.
View this post on Instagram
As you can imagine the two otherwoldly temples atop Mount Fanjing are among the most popular tourist attractions in all of China. People from all over the world journey to this magical place to enjoy the stunning views of the surrounding Fanjingshan National Nature Reserve, and scratch this destination from their bucket list. And it definitely is one of those places you should consider yourself lucky for experiencing in person, at least once in your life.
View this post on Instagram
View this post on Instagram
View this post on Instagram
View this post on Instagram