People generally love decorating their homes for the winter holidays, but how many of us would actually put a whole month into making sure that the whole place is filled with Christmas decorations? Well, one man does it every year.
43-year-old Jack Baremans, from Etten-Leur, a commune in southern Netherlands, has always loved the Holidays. He has been collecting all kinds of Christmas decorations ever since he was 16-years old, and has made a habit of using all of them to decorate his home every year. His collection has gotten so large over the years, that he now reportedly takes about a month filling the inside of his home with dozens of artificial Christmas trees, thousands of ornaments, garlands, wreaths, plush reindeer and polar bears, Christmas lights and pretty much every other decoration imaginable.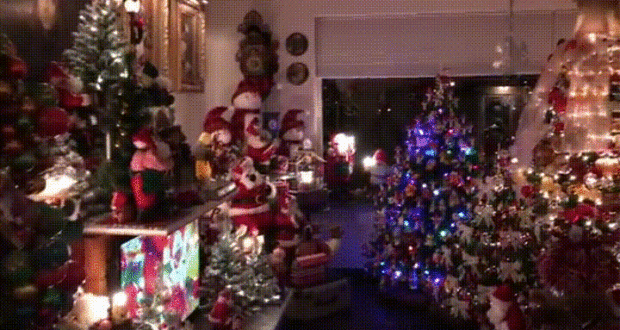 Baremans' neighbors in Etten-Leur all know about his passion, and enjoy visiting his little Christmas paradise every year. Luckily, this year, after posting a couple of videos of the completed home-makeover on YouTube, Jack Baremans and his month-long decorating tradition have become known outside the borders of the small Dutch commune. It would have been a shame not to share such an impressive display with the rest of the world.
Only Baremans' decorated living room and hallway are shown in the videos, but according to Belgian news website HLN, all the rooms in his home have received a similar treatment.
To be honest, it's a bit too much for my taste, but I cannot deny that the place looks mighty impressive.