At just three years of age, Zayn Sofuoğlu can barely reach the pedals of a car, and he can't even see past the steering wheel, yet he somehow drives better than most people.
The youngest son of Turkish motorcycle racer Kenan Sofuoğlu, Zayn spent most of his young life around powerful motorcycles and supercars and he probably has more experience with them than most adults. Zayn wasn't even two years old when his father, who holds a record of five Supersport World Champion titles, started posting videos of him riding a motorcycle in the driveway of their family home. Since then, the prodigy has been honing his motorist skills, and he is now able to expertly maneuver and park various supercars even though he can't even see through the windshield…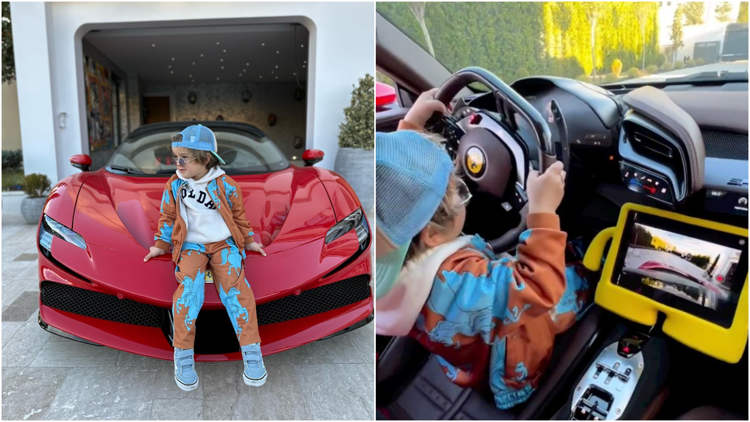 Photos: Zayn Sofuoğlu/Instagram
It's not surprise that Zayn Sofuoğlu has almost one million followers on Instagram alone. He's a special kid who seems capable of things that no other 3-year-olds would even dream of. The latest viral clip uploaded by his parents, who manage all his social media, shows him using a GoPro camera linked to a tablet inside the family's Ferarri SF 90 Stradale to take the supercar out of a garage, take it for a spin and then expertly back it up into the tight garage.
View this post on Instagram
Many adult drivers would probably be nervous about driving a supercar for the first time, especially in what looks like a relatively tight space, but young Zayn Sofuoğlu doesn't seem fazed at all. Keeping his eyes on the tablet in the car and struggling to reach the pedals, he maneuvers the red Ferarri with ease, to the delight of his father.
View this post on Instagram
Back in 2021, Kenan Sofuoğlu, who is a member of the Turkish Parliament from the ruling  Justice and Development Party (AKP), came under fire for putting his son in danger by letting him ride motorcycles and supercars, and the recent videos often get negative comments as well, but so far the family seems unfazed.
View this post on Instagram
"If I do this to my son, the state will take him away from me," one Twitter user commented.
View this post on Instagram
There's no doubt that the talent for driving and riding motorcycles runs in the family, but the controversy around Zayn's age is understandable as well, even though his parents are always there to make sure nothing serious happens.