Ashley Maxwell-Lam, a project manager for a major bank in Sydney, Australia, has been wearing six-inch stilettos to work for about a year and claims they make him feel empowered.
30-year-old Ashley has always loved women in high-heels and the power they exude, so he decided to adopt the same footwear in order to feel empowered as well. The trick worked, and now he wears one of his nine pairs of six-inch stilettos to his financial services job in Sydney's CBD several times a week, especially when meeting with new clients. Apparently, the combination of dapper suit, tie and high-heel shoes makes for a great ice-breaker.
Photo: The Project video screengrab
The idea of wearing women's high-heel shoes to work came about last year, right after Ashley moved from Queensland to Sydney. One day, he watched a video of Yanis Marshall, Arnaud and Mehdi, a French trio of male dancers in high heels, on TV, and it got him thinking. Then there was this female executive at his bank who seemed to tower over every room she walked in, and who claimed it was all in the shoes.
"I asked her how could an object make you feel powerful? So she said, 'try them on and see'," Maxwell-Lam told News.com.au. "I did and exactly what she said rang true. I've never felt more empowered then putting on a pair of stilettos and walking through a marble lobby."
So Ashley, who is openly gay, has been wearing high-heels to work ever since. He doesn't wear them day in, day out, as he admits they can get quite uncomfortable after a while, but he'll always put them on when meeting with new clients. His manager didn't really know what to say when the 30-year-old told her that he planned on wearing high-heels to work, but he let her know that he was very serious about it.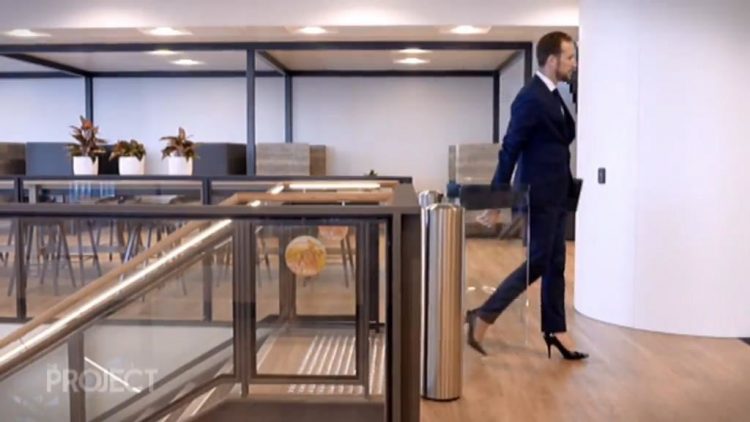 Photo: The Project video screengrab
"When I decided to wear them at work, I told my (manager) and she said, 'Let me just confirm that's OK,'" Ashley recalled. "It was her making sure I wouldn't get in trouble, but I replied, 'This is not me asking, this is not a request, this is me telling you I'm going to be wearing heels.'"
Although the reception of his footwear has been generally positive, Ashley Maxwell-Lam admits that he occasionally gets "looks of disgust", particularly from members of the gay community.
"The only time I've had bad situations is actually within my own community," he said. "(Some) gay people have said to me, 'Why are you wearing a heel, that's disgusting, you're a man? You shove it down people's throats, no wonder gays get bashed."
"I reply, 'You lost the right to judge me when you preened yourself within an inch of your life. You may look like a lumberjack but your tan's out of a bottle, your eyebrows are plucked, you go to a barber twice a week and you've never touched a power tool in your life'. Our emblem is a rainbow and yet they condemn others because they don't align with their way of thinking."
Ashley says he loves the attention he gets when he's trotting around in his manly suit and high-heel shoes, but it's not why he does it. He just loves the "contrast between masculinity and femininity" and the way it makes people question things.
Most men couldn't last one day women's stilettos, so this guy deserves some respect.