For the last two decades, Indian wildlife photographer and conservationist Aditya Singh and his wife have been buying land adjacent the famous Ranthambore Tiger Reserve in Rajasthan, and simply letting the forest grow back as a refuge for big cats and other wildlife.
In 1998, Aditya Singh left his comfortable job with Indian civil services in Delhi and moved to a remote part of Rajasthan, in the vicinity of the Ranthambore Tiger Reserve, to be closer to nature. He took up photography and together with his wife, artist Poonam Singh, opened a tourist resort to earn a living. They had been able to buy a piece of land, because farmers were eager to sell due to the danger of tigers from the nearby reserve venturing onto their properties. Over the year, the couple bought up more land, but instead of planting crops, they just let nature slowly reclaim it. Over the last 20 years, their 35 acres of land has transformed into a green forest patch where lions from the tiger reserve as well as wild boars and other animals come all year round.
Photo: pforpuja/Pixabay
"The area is called Bhadlav. I had first gone to this area soon after settling in Ranthambore along with a BBC filmmaker. This area adjacent to the boundary of the Ranthambore reserve was visited by predators like tigers who used to come for prey. As a result, farmers were selling their land," Singh told Mongabay-India. "I just bought this and did nothing to it except removing the invasive species. We allowed the land to recover and now after 20 years it has become a lush green patch of forest which is frequently visited by all kind of animals, including tigers, leopards and wild boars, throughout the year."
Aditya and his wife managed a tourist resort in the area until 2019 when they closed it down, and they are now in the process of building a new home and homestay in the area, both of which on solar and wind power, so they can remain close to their lifetime project. They are also trying to buy more land from nearby farmers and hopefully inspire other to follow their example.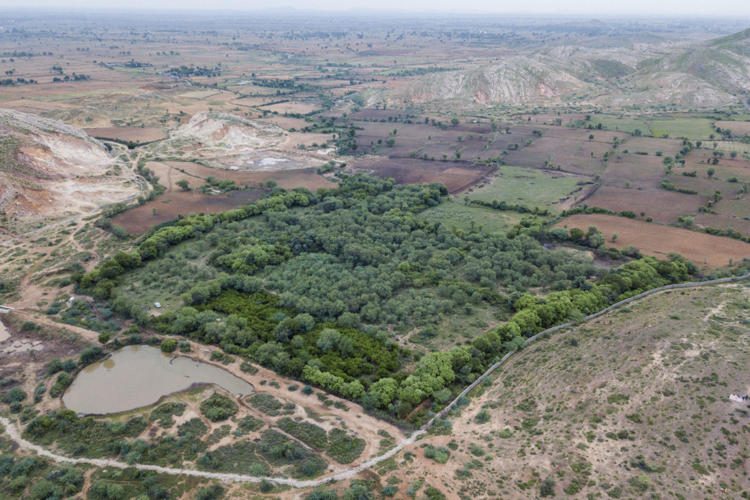 An aerial photo took by Aditya himself reveals why his green land parcel is so much more inviting to wildlife than the barren terrain of the adjacent Ranthambore Tiger Reserve. He and his wife have even created watering holes, to make sure visiting animals have plenty of water even during hot summers. The green haven has become so popular with big cats that it has relieved some of the pressure of tigers venturing on farmers's lands.
"It is simply because the animals understand that in this patch of the forest they get prey, water and safe shelter without any disturbance," Singh said.
The photographer claims that he is often approached by businessmen and farmers looking to buy his land so they can exploit it agriculturally, but he has never even thought about selling, regardless of how profitable that could be. His project has never been about money, but about his love for nature and wildlife. Today, he is often getting questions from like-minded people wanting to replicate his model in other parts of India.
Aditya and Poonam Singh are not the only Indian conservationists who took it upon themselves to restore nature to its former glory on land that could have been financially exploited. Anil and Pamela Malhotra have also spent decades of their lives turning a 300-acre piece of farmland in Karnataka into a green sanctuary for elephants and other wildlife, and India's "Tree Man", Vishweshwar Dutt Saklani, spent his life planting over 5 million trees and turning his once barren homeland into a lush forest.