The last thing you'd expect to find in the center of a Vietnamese rural district is a spectacular European-style palace, complete with a gilded roof, stunning facade and intricately decorated walls, and yet that's exactly the sight you're treated to in the heart of Gia Vien, in Vietnam's Ninh Binh province.
I know what you're thinking, Vietnam was a French colony for more than six decades, so this European-looking marvel must be a well-preserved relic from that period. But Thanh Thang Palace has nothing to do with French colonialism or Vietnamese history in general. This opulent complex is merely the residence of a local billionaire who reportedly spent between 300 and 400 billion dong ($12 – $17 million) to fulfil his dream of living in an actual palace. While the interior has yet to be completed, the outside is finished and it looks absolutely stunning.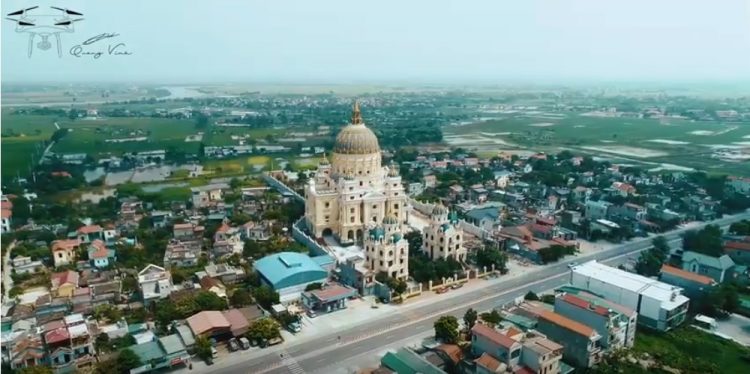 Photo: Vinh Sun/YouTube
Photos of Thanh Thang Palace have been doing the rounds on Vietnamese social media for the last couple of weeks and causing viewers' jaws to drop to the floor. Regardless of how you may feel about living in a place like this, you can't deny that it looks impressive. From the domed gilded roof, to the stucco reliefs and elaborately-decorated arches, this is a modern architectural wonder inspired by several European styles, with a bit of Asian influence thrown in for good measure.
Thanh Thang Palace is the property of Do Van Tien, a 52-year-old Vietnamese businessman who named it after his two sons, Thanh and Thang. Vietnamese media reports that the land the palace is built on was originally a pond of which only a small lake behind the opulent building is still around today. It's estimated that 1,000 tons of iron, 4,000-5,000 tons of cement and tens of thousands of tons of sand and bricks were used in the construction of this modern-day palace, and the total cost up to this point is believed to be between 300 and 400 billion Vietnamese dong.
The main building is 6-storeys-high and covers an area of 1,700 square meters. It also features an underground floor which is split into three main areas – a 700-square-meter garage that can accommodate up to 30 cars, a smaller, 500-square-meter garage with a capacity of 20 cars and a music room complete with a small stage. The rest of the castle interior is still incomplete, but is expected to rival the exterior in opulence.
Vietnamese newspapers started writing about Do Van Tien's property in Gia Vien back in 2014, when only the two smaller palaces at the front of the complex had been built. Back then, he said they symbolised his two sons, adding that he hoped they would always rely on each other and work together to build up the family business. Since then, the two smaller structures have been overshadowed by the opulent main palace.
Thanh Thang Palace is considered the most impressive architectural project in Ninh Binh province, and for good reason.
Oh, and did I mention that the whole place lights up at night?