With a height-to-width ratio of 24:1, Steinway Tower, an 84-story luxury apartment building in Manhattan, is officially the world's thinnest skyscraper.
Steinway Tower is an impressive architectural achievement. Not only is it the third-tallest building in the Western Hemisphere – after One World Trade Center (1,776 feet) and Central Park Tower (1,550 feet) – but it's actually the most slender skyscraper in the world. Despite standing a dizzying 1,428-feet-tall, Steinway Tower is just 60 feet wide. It's so thin that The Guardian newspaper has dubbed it "the coffee stirrer". For comparison, Steinway Tower is as wide as a bowling alley is long.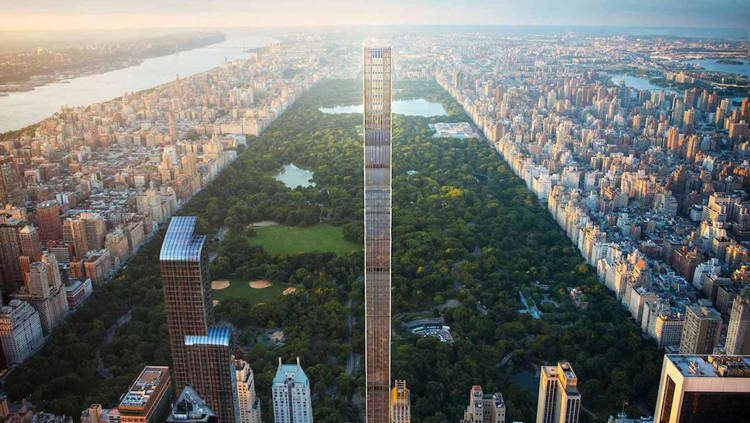 Although Steinway Tower is constructed out of the world's strongest concrete, it is not immune to the phenomenon affecting virtually all skyscrapers – swaying. As structural engineers Rowan Williams Davis and Irwin told the NY Times in 2015, a 1,000-foot-tall tower will sway from a few inches on a typical windy day to two feet on a rare 100-mile-per-hour wind day. The trick is to design them so that the residents never actually feel the movement.
Also known as pencil towers, these super-skinny skyscrapers first became popular in 1970s' Hong Kong, but they are now becoming mainstream in the US as well. But despite offering residents gorgeous views of their urban surroundings, these skyscrapers can also be problematic. Case in point, the 432 Park Avenue Tower, which has been in the news for a bunch of quirks reported by many of its A-list residents.
In September of 2021, the tower's condo board sued developers for failing "to properly design and build the building for its remarkable height," which led to it causing "horrible and obtrusive noise and vibrations" in homes. None of that has been reported in Steinway Tower, though.
Steinway Tower may hold the title of the world's skinniest skyscraper, but the prices of housing in the recently inaugurated edifice are anything but slim. Studio apartments start at $7.75 million, while the triples penthouse at the top is priced at an eye-watering $66million.
While Steinway Tower may be incredibly slender for a residential tower, it's definitely not the thinnest tower in the world. That title currently belongs to the i360 coastal observation tower in Brighton, UK. It is only 3.9 meters in diameter, with a height-to-width ratio of over 40:1.