Noel Cruz, a Filipino-American artist based in Anaheim, specializes in repainting mass-produced celebrity and character dolls, like those made by Mattel, into hyper-realistic miniature models of the people that inspired them. The results of his meticulous work are nothing short of awe-inspiring.
Born and raised in Manila, the Philippines, Noel Cruz has been drawing and painting people's faces for most of his life. It all started when he was 12 years old, when, while looking through a neighbor's window, he saw a telecast of the 1974 Miss Universe Pageant on television. Seeing so many beautiful faces all at once inspired him to start drawing portraits on pieces of paper. At age 16, having undergone no specialized training, Cruz was already selling portraits as commissioned work. But he only discovered the fascinating world of repainted dolls several years later, after emigrating to the United States with his family.
Emma Watson as Belle (Beauty and the Beast)
At one point, Noel's wife took an interest in collecting dolls, and, having never been able to own a collection of action figures as a child, the artist got actively involved in helping her expand her collection. At the same time, he became proficient at painting, which would prove crucial in his new career.
Gal Gadot as Wonder Woman
In 2001, while searching on eBay for a "Gene" doll for his wife's collection, Noel Cruz discovered repainted dolls, and was instantly drawn to their intricate features and general beauty. He considered this art form as the ultimate way of customizing dolls and wanted to give it a shot himself. The talented artist soon discovered that painting facial features on a tiny surface was a lot different than doing it on a paper canvas, but after lots of trial an error, he not only got the hang of it, but managed to become a doll repainting master.
Today, Noel Cruz is regarded as one of the most prominent repainting artists in the doll collecting community, and for good reason. Just look at what he can do with a mass-produced doll and some paint.
Ralph Fiennes as Voldermort (HarryPotter)
To transform a run-of-the-mill celebrity doll into a miniature masterpiece, Noel starts by removing the stock paint job. He then paints all the details from scratch, using needle-point paintbrushes, and often forging brushstrokes for expertly applied little dots of paint.
Angelina Jolie as Maleficent
Everything from the the color of the eyes to the shape of the lips and eyebrows ends up looking infinitely more realistic, especially when compared to the original makeup of the mass-produced doll.
Liz Taylor
To make his custom dolls look even more lifelike, Cruz often dyes and trims their hair as well.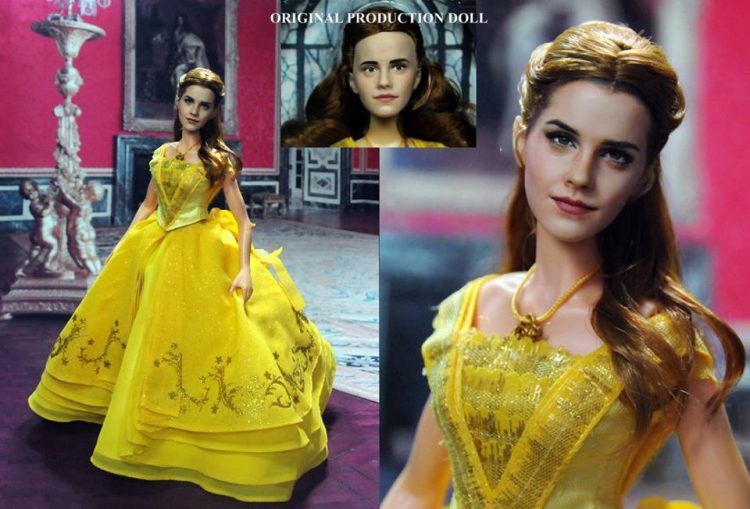 Noel Cruz's repainted dolls are obviously not children's toys. Wealthy collectors around the world often pay thousands of dollars to add some of his most best works to their collectors. The artist usually auctions off his custom dolls on eBay, where they usually fetch between $500 and $3,500.
Anne Hathaway and Meryl Streep in The Devil Wears Prada
For more incredibly-realistic repainted dolls, check out Noel Cruz's website and Facebook page. And if you want to see how the magic happens, you can find timelapse videos of his repainting process on YouTube.
Daniel Radcliffe as Harry Potter
Cher
Jim Parsons as Sheldon Cooper (The Big Bang Theory)
Noel Cruz