Yuki Tsuboshima, a metalworking artist from Japan, specializes in ingeniously-designed, mechanical sculptures that turn into different shapes, like little Transformers.
As a child, Yuki Tsuboshima was fascinated by puzzle-like toys with movable parts and intricate mechanisms, and he never really outgrew this passion. He majored in metalworking, specializing in uchidashi, a traditional Japanese metalworking technique used to manipulate metals like copper, brass and silver. He then completed a master's course in industrial design at Musashino Art University Graduate School in Tokyo, where he learned to use software like 3DCAD to create all sorts of shapes and mechanical parts.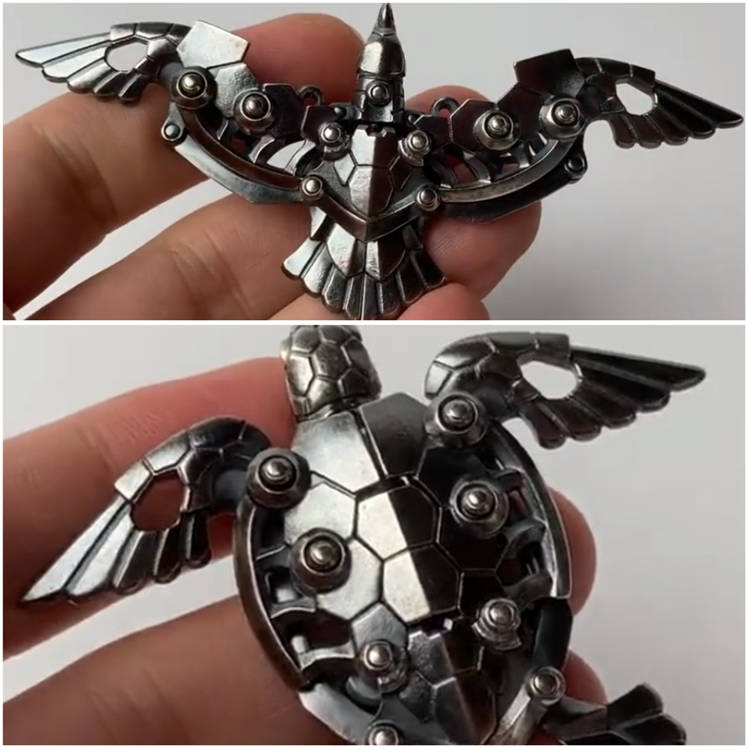 Photo: Yuki Tsuboshima/Twitter
Combining all that he had learned in school with his passion for ingenious toys and mechanisms, Tsuboshima started creating intricate metal sculptures that transformed into multiple shapes. The so-called "variable hardware" is often inspired by animals or fantastic creatures featured in manga or anime.
Each project takes Yuki Tsuboshima about three to four months to complete. It starts as an idea in his head, then comes the computer rendering of the parts using 3D CAD software, before printing each part using 3D printers. If everything comes together as intended the 3D printed prototype is used as a model to cast molds for each part. Finally, the metal works are cast, usually out of silver 925, although 18-karat gold and phosphor bronze are sometimes used.
Yuki Tsuboshima has shown off his awe-inspiring creations at several exhibitions in Japan, and has also been featured on several television programs. He also has tens of thousands of fans on Twitter, where he regularly uploads photos of his newest projects.
Besides his variable hardware, Tsuboshima also works for major Japanese toy and figurine manufacturers and is the mastermind behind some of the most famous creations sold on the Japanese market.
"I also want to make a robot someday, so I'm gathering tools to play around with a simple electronic kit," the metalworking artist told Iwasaki . "It might be interesting to create an automatic transformation unit and create a work that transforms with a single switch."
It's nothing short of a tragedy that such a talented artist has only 279 subscribers on YouTube at the time of this writing.