Dutch artist Daan Roosegaarde's latest project, GROW, involved installing a clever and mesmerizing lighting system in a 2-hectare field of leek for both aesthetic and practical purposes.
People driving by the picturesque town of Lelystad, in central Netherlands, at night, this time of year are treated to a surreal sight – a 20,000m2 field of leek glowing blue, red and purple. Thought up by Studio Roosegaarde, the unique artistic installation is designed both as a homage to Dutch farmers and as an inspiration for them to experiment with artificial light in outdoor farming. Daan Roosegaarde also wants GROW to send a hopeful light to people in these trying times, giving new meaning to the word 'agri-culture' as a living cultural artwork.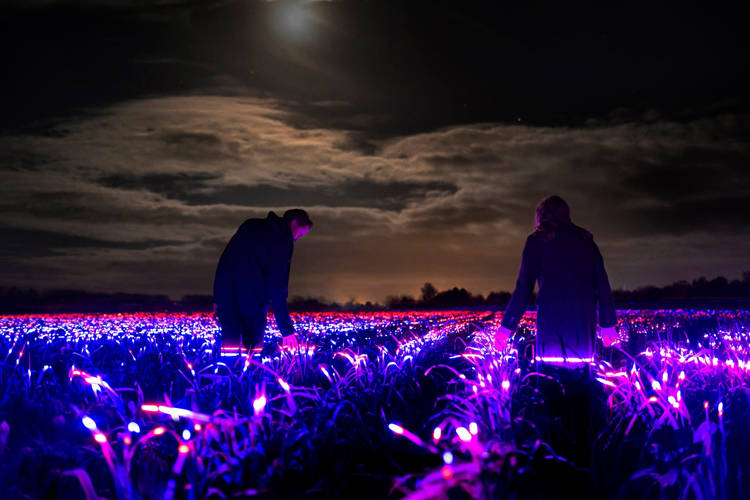 Photo: Studio Roosegaarde/Facebook
Nighttime ultraviolet light has been used in glasshouse agriculture for a while now, especially in places where direct sunlight is scarce, but its use in outdoor farming has so far been very limited. Ultraviolet light is known to help plants grow better, but Studio Roosegaarde is also testing a theory according to which certain wavelengths of ultraviolet light could reduce the need for pesticides by up to 50%.
"So we started to scan the plants with these wavelengths of light and then suddenly it started to dance, the light," Daan Roosegaarde told Reuters. "You had these huge fields of fireflies and we were testing it and the magic started kicking in so I think that's when the worlds of science and art and design collide and enhance each other."
Solar-powered lighting installations project ultraviolet light onto the leek plants, thus augmenting the effect of natural sunlight after sunset, and creating a surreal spectacle at the same time.
GROW is currently located near Lelystad, but Roosegaarde plans to take the visually-impressive installation on the road to over 40 countries. Each country will have its own local or national crop and its own unique light recipe. Unfortunately, due to Covid-19 restriction, GROW is NOT currently open to the public!
Over the years, Studio Roosegaarde has created a number of fascinating installations, like this glow-in-the-dark bicycle path powered directly by the sun.