Comparable in height to a skyscraper and weighing a whopping 13,500 tons, the German-made Bagger 288 holds the Guinness World Record for the world's largest excavator.
Here at oddity Central, we love big, heavy machinery! In fact, we just featured the world's largest dump truck, the BelAZ-75710, a Belarussian behemoth capable of carrying a load of over 500 tons. However, this metal monster looks positively tiny next to the world's largest excavator. A one-of-one, the Bagger 288 giant excavator was produced in 1978 by German company Krupp and has been holding on to the title of 'world's largest excavator' ever since. It can go through 240,000 cubic meters of rock per day, and is used to produce around 8.5 million tons of coal per year.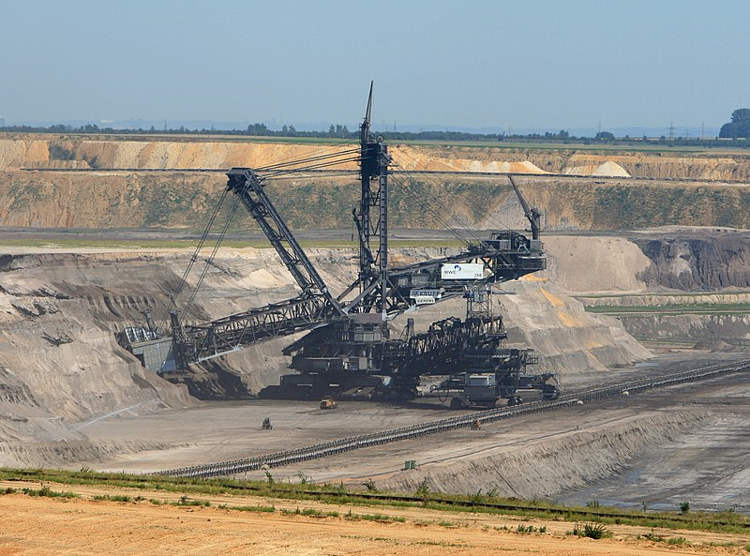 Photo: Lothar Hakelberg/Wikimedia Commons (Creative Commons Attribution-Share Alike 4.0 International)
The Bagger 288 excavator is more than worthy of its Guinness Record. It stands 96 meters tall, which makes it almost as tall as a skyscraper, it is 220 meters long, and it weighs a massive 13,500 tons. It features an enormous rotor with 18 built-in buckets, each with a volume of 6.6 cubic meters, which feed the excavated rock onto a large conveyor belt for processing. Interestingly, the Bagger 288 requires a team of just 4 people to operate – 2 to control the rotor, 1 in charge of the conveyor belt, and a supervisor. Because having to come down regularly for toilet and lunch breaks would take too long, the excavator features its own toilet and kitchen.
As you can imagine, powering this massive contraption requires ridiculous amounts of energy. The Bagger 288 is powered  It is powered by an external power source providing over 16 megawatts, through a giant electrical cable. Because of the huge costs of operating this behemoth, it is only used in large-scale mining operations.
Believe it or not, this giant piece of machinery is mobile! The Bagger 288 was deployed at Hambach, the largest open-pit quarry in Germany, shortly after being completed in 1978. However, in 2001, it was decided that its services were of greater use at the Garzweiller surface mine, about 22 kilometers (13 miles) away. Not the longest distance for the average vehicle, but quite a challenge for the world's largest excavator.
Experts concluded that disassembling the Bagger 288 and reassembling it at the new site was too costly and complicated of an affair, so they decided to simply drive it there instead. That required some groundwork, though. Sections of the road from Hambach to Garzweiller were sown with grass to ensure that the soil could support the enormous weight of the machine and a meter-thick layer of sand was poured over the road and railway tracks to prevent damage. River sections were also covered with stones to make crossing them easier. Power lines had to be dismantled and then reconnected after the Bagger 288 passed, because there was no way around them.
The move of the world's largest excavator took about three weeks, which sounds like a lot for just 22 km, but keep in mind that the Bagger 288 moves at a top speed of about 1 kilometer per hour, and there were a lot of unforeseen situations to deal with. However, thanks to the twelve 3.8-meter-wide tracks supporting the excavator, it did not exert too much pressure on the soil, and the moving operation was considered a success.
The Bagger 288 is considered somewhat of a tourist attraction, and people sometimes drive to the Garzweiller mine just to see it in person. And to be fair, this thing is quite a sight to behold, especially when performing the task it was designed for – digging through coal deposits like butter.
Interestingly, the Bagger 288 shares the title of the world's largest excavator with the newer Bagger 293, unveiled in 1995. The two have very similar dimensions, but the legendary status of the older model and the story of its epic move from one quarry to another makes it a lot more popular.