Chinese car manufacturer Chery came up with an unusual marketing pitch to promote its new eQ7 electric crossover – building a tower of cars to show how durable its aluminum body is.
China's electric vehicle production is firing on all cylinders these days, and manufacturers are coming up with all kinds of marketing strategies to get a leg up on the competition. Take Chinese company Chery, whose new eQ7 electric car hit the local market last month. It is said to strike a good quality/price balance, has an intriguing design, and has an official driving range of 412-512 km on a fully charged battery. But the same can be said about many of its competitors, so in order to make it stand out, Chery decided to focus on the strength of its LFS aluminum body, by creating a tower of no less than seven eQ7s.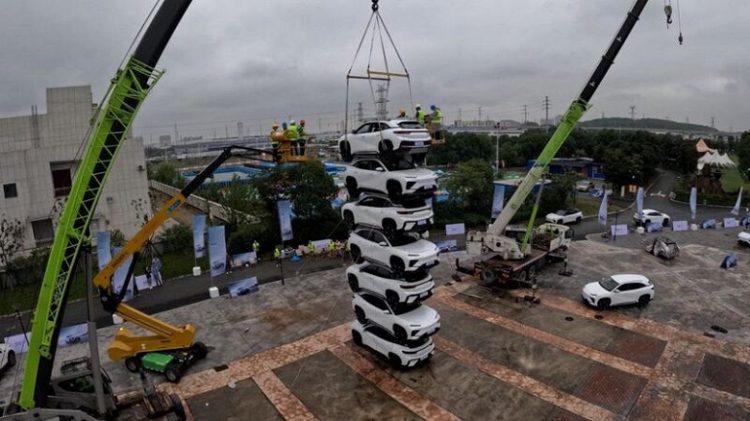 According to the Insurance Institute for Highway Safety, to achieve the maximum safety rating, a vehicle must be able to support 4 times its own weight. Chery decided that wasn't good enough so it stacked seven eQ7 vehicles on top of each other, along with special metallic platforms placed between vehicles to secure them. That means the vehicle at the bottom supports the weight of six other eQ7s placed on top of it.
Automotive industry experts quickly noticed that the stunt wasn't exactly original. European company, Volvo, which, ironically enough, is owned by Chinese automaker Geely, has been using the same marketing strategy since the 1980s. The latest one was done in 2021 when seven XC60 crossovers were stacked on top of each other.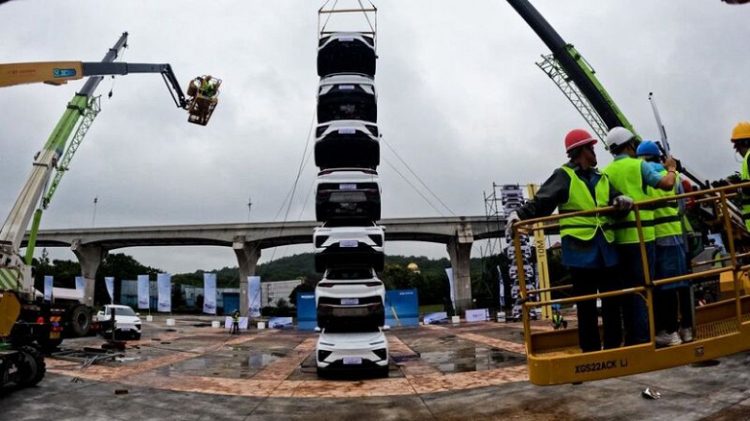 Accusing Chery of copying Volvo's idea is one thing, but considering the doubts that many motorists outside of China still have about the quality of Chinese modern cars, such stunts may actually prove useful in attracting new customers once Chinese manufacturers start tackling global markets.