The world's biggest electric vehicle is a giant dump truck that relies almost exclusively on energy produced by its own breaking system, requiring only minimal recharging.
Called the 'eDumper', the world's largest electric vehicle is actually a converted Komatsu 605-7 HD dump truck the diesel engine of which was replaced with an electric motor and a giant battery. It was a joint venture between Swiss company E-Mining, Empa, the University of Bern and NTB Interstaatlicke Hochschule fur Technik Buchs. Creating the largest and most powerful electric vehicle in the world took approximately 18 months and was unveiled in 2018 when it performed its "maiden voyage" at a quarry of Vigier Ciment in the Swiss Canton of Berne.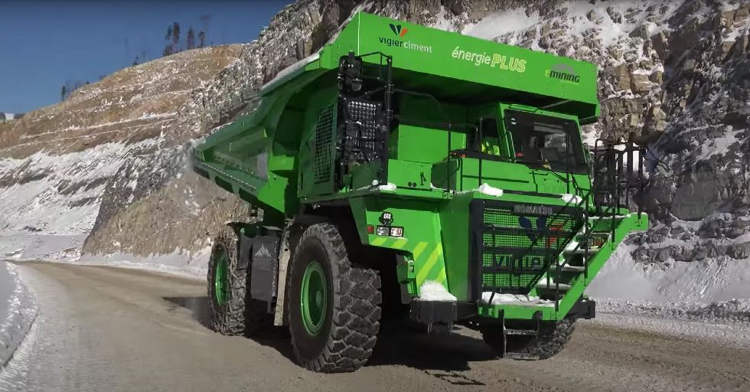 According to EMPA, the eDumper features the largest battery ever produced for an electric vehicle. It weighs 4.5 tons, which makes it about as heavy as two complete passenger cars. The truck itself weighs 58 tons when empty, and can carry a payload of 65 tons. It's actually this incredible weight that allows the eDumper to generate its own power.
Fuel sustainability may seem nonsensical in the case of mining trucks the size of the eDumper, but it was actually one of the focal points of this project. When designing the world's biggest EV, the team knew that it would operate at a quarry, transporting lime and marl rocks from a higher mining area to a lower processing plant. So they decided to use the energy generated during its descent to power its subsequent ascent up the quarry slope.
When descending fully loaded, the eDumper generates energy via its break disks and stores it in its giant battery instead of releasing it into the environment. The bigger the weight, the higher the break energy generated, and at its maximum 123 tons, it can generate enough energy to power itself back up the quarry slope.
EMPA estimates that the eDumper can transport over 300,000 tons of rock per year, which means that in 10 years it will have saved up 1,300 tons of CO2 and 500,000 liters of diesel.
Although originally designed as a self-sufficient vehicle, the eDumper cannot generate 100 percent of the energy it uses every day, especially in the winter, when the battery operation isn't optimal. Because of this, the world's largest electric truck has to spend a short period of time on the charger every day. It's also worth pointing out that the cost of the eDumper is roughly 2.5 times that of a diesel-powered Komatsu 605-7 HD dump truck, which makes it a less-than-ideal investment for most companies.
Although it's not yet cost-effective to rely on electric dump trucks, the eDumper is proof that going electric is possible even in the case of large vehicles like quarry mining vehicles.