Chacho's Taco, a Tex-Mex eatery in Corpus Christi, Texas, has been challenging people to finish a spectacular 4-pound All-Mighty Taco in under 10 minutes ever since its inception, 18 years ago. During that time, only 5 really hungry people have managed to do it.
The next-to-impossible eating challenge posed by Chacho's Taco recently went viral on social media, after Norma Jean Toro, a Corpus Christi local, posted a photo of her struggling to eat the 4-pound behemoth made with a giant homemade tortilla and lots of beans, cheese, carne guisada, egg, potatoes and bacon. She failed to finish the taco, but won the admiration of the internet instead. Her post has been doing the round on social media around South Texas after receiving thousands of shares on Facebook.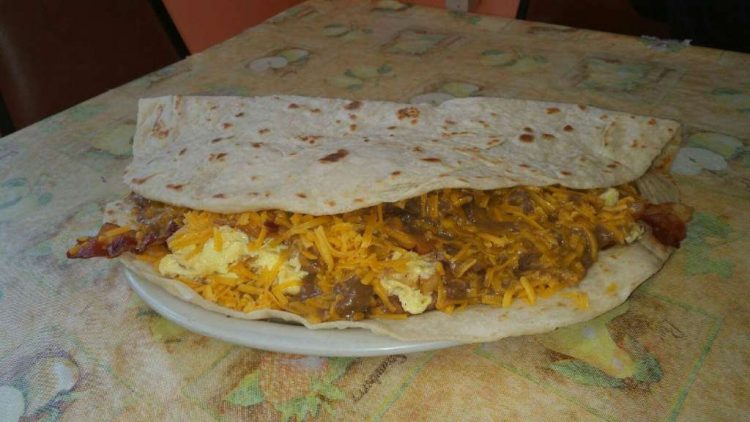 Toro has nothing to feel bad about, as Chahcho's Taco owner Mary Gutierrez told MySanAntonio that only five people have managed to clear their plates in just 10 minutes, in the restaurant's 18 year history. They must have been some seriously hungry people. Anyway, with such a low success rate, this challenge must have some really awesome prizes for the victors, right? Well, you get a t-shirt, your name mentioned in the very short hall of fame, bragging rights and you also don't have to pay for the $9.99 taco. Kind of underwhelming if you ask me.
Gutierrez herself admitted that she hasn't been able to finish her All Mighty Taco, and Norma Jean Toro said that after she had had enough of hers, her husband tried to finish it, but couldn't do it. So chances are you're not going to be the sixth person ever to beat this monumental eating challenge, but locals say Chacho's Taco is worth the drive for its delicious Tex-Mex food. The restaurant has been featured in Texas Monthly and Tacos of Texas, and is regularly included in the top taco joints in the state.
To be honest, I don't even know what's harder, eating a 4-pound taco in 10 minutes, or a 30-pound taco in an hour? What do you think?