A London bachelor is taking extreme measures to increase his chances of finding a wife – renting subway advertising banners in the English capital to get as much exposure as possible.
If you've passed through the Oxford Circus subway station in London during the last few days, you've probably seen a couple of unusual advertising banners plastered on the walls. They show a man in a pink suit who is apparently looking for a suitable wife. That man is 31-year-old Jeevan Bhachu and he wants everyone to know that he is not kidding. He really is looking to get hitched, and since the pandemic has made conventional dating problematic, he decided to go for a more straightforward approach.
Photo: Jeevan Bhachu
"Best Indian you'll takeaway," one of the ad banners Jeevan rented boldly states. Catchy, if I do say so myself, but the young bachelor, who happens to work in marketing, says it got him in trouble with Transport for London. They refused to approve his advert at first, claiming that it broke their rules against advertising fast food, but they came around after he explained that his project has nothing to do with takeaways.
Jeevan told the Evening Standard that he thought about using outdoor advertising banners but ultimately decided that a subway station was more effective, as ads here tend to get more attention from people waiting for their train to arrive. He paid around £2,000 ($2,600) to rend two banners for two weeks, and after only a few days, he already had over 50 candidates.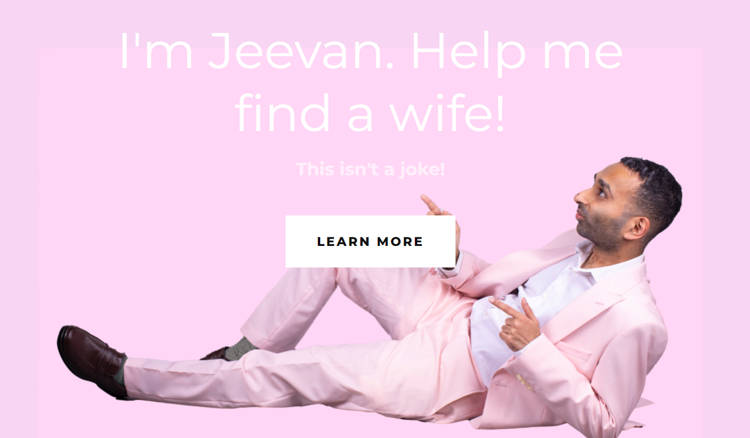 Photo: Jeevan Bhachu
"For me, even to just get one genuine response is what the aim is," Jeevan said. "I'm not looking for hundreds, I'm just looking for 'the one'".
The website that the banners encourage applicants to visit states that the young bachelor is looking for "someone who is family orientated, humble, and wants to make the most of life. Appreciating humour and not taking life too seriously is key."
In case you're wondering, Jeevan has tried virtual speed dating and apps like Tinder before, but he never really found someone he wanted to marry, and since he's not getting any younger, he decided to take a more direct approach.
Jeevan Bhachu said that he is happy with the response to his initiative thus far, but if he doesn't manage to find a wife this time, he plans on renting more ad banners in other London subway stations.