Swedish company Mo'cycle recently announced the world's first airbag jeans which offer impact protection for motorcyclists' lower body in case of accidents.
Inflatable accessories that protect motorcyclists in case of accidents are nothing new. We've seen helmets with inflatable add-ons that act as a cushion, and backpack-like strap-ons designed to protect the wearer's back from impact, but Swedish startup Mo'cycle claims to have created the world's first airbag jeans. Made out of Armalith, a special fabric that looks and feels like actual denim, but is actually water-repellent and abrasion-resistant, the inflatable jeans come with built-in airbags that get triggered during motorcycle accidents to protect the rider's lower body.
Photo: Mo'cycle
It is revolutionary to use airbag technology to protect the first bone of the spinal column, because spinal column injuries are what paralyze motorcycle riders,' Mo'cycle claims, adding that, apart from the tailbone, its special jeans offer protection for thighs, hips, and the back of the torso. Like regular motorcycle pants, they also come with protective knee pads.
An important characteristic of the Mo'cycle airbag jeans is that they are completely reusable. Even if the airbags do go off, they can be deflated and then hooked up to another compressed air canister. The trigger for the airbags needs to be hooked up to the motorcycle so that when the rider falls off, the trigger detaches from the jeans, and the airbags are instantly activated.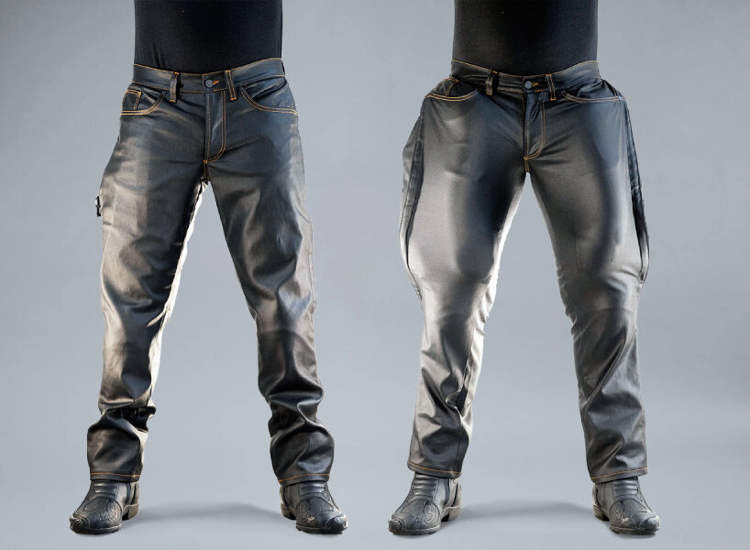 Photo: Mo'cycle
In case you're worried that you might forget to detach the trigger from the motorcycle and accidentally activate the airbags, don't be. Mo'cycle claims that the trigger requires a force of at least 88 pounds (40kg) to release, which means that only a fall off the vehicle is virtually the only way to activate the airbags. No need to worry about motorist friends pulling the trigger as a prank…
"The only impact protection you have in regular motorcycle jeans is basically the knee protectors and sometimes you get hip protectors," Mo'cycle founder and designer Moses Shahrivar told Mail Online. "Most injuries occur on the lower body in a serious motorcycle accident, so for 17 years I've been trying to solve this problem. What the airbag did for cars is about to happen to us motorcycle riders."
The world's first airbag jeans will become commercially available sometime this month, at a reported starting price of $499.