The small Australian hamlet of Mullumbimby is one of the last places on Earth you would expect to find a men's choir singing their hearts out about the Motherland and the Red Army in Russian like they knew the language, but then again that's what makes Dustyesky so special.
Mullumbimby, a small, subtropical town near Byron Bay in Australia's northern New South Wales, was mostly known for its timber industry, but thanks to the success of the 28 men making up hit choir Dustyesky it's also become known for its Russian songs. None of the members of the group actually speak Russian, but they bonded over their love of vodka and Russian folk songs, and they got so good at singing that they even managed to impress the Russians. The group now bill themselves the 'leading genuine fake Russian choir in southern hemisphere'.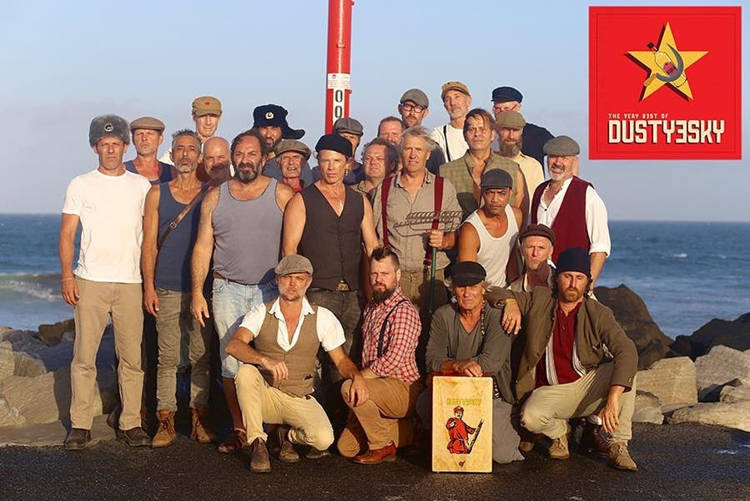 Photo: Dustyesky/Facebook
Dustyesky was the brainchild of Glenn Wright, a former co-owner and talent booker for Sydney's Harbourside Brasserie, who moved to Byron Shire and started a local music festival. He had always been fascinated by Russian army marching songs, Russian composers and had wanted to fly in a Russian choir for his festival, but couldn't, so he decided to create one locally.
As luck would have it, one night, at a local vodka-fueled party, Wright met choirmaster Andrew Swain and pitched the idea to him. Swain was of the belief that anyone could sing, so when he put the ad out for members, he didn't mention musical abilities, focusing instead on appearance.
"We looked for hairy people, so hairy men, woolly men, men that you could find at the bar late at night," Andrew Swain recently told ABC.net.au. "I have heard some people say that Dustyesky has three type of men: one with excellent voice, two, kind of hold a tune, and three, good to have a drink with. We sing perfect four-part harmony, even though some of us cannot sing."
Dustyesky members come from all walks of life, some are nut farmers, others are teachers, plumbers of carpenters, but they all had one thing in common – they needed a reason to leave the house. They were involved in relationships where they had to co-parent and do have the cooking, so going out for a drink with the boys wasn't always an option, so having to rehearse with their fellow Russian choir members was a great excuse, especially since it involved Russian vodka.
But the group became something special from the start. With a repertoire of just three songs, they managed to wow the locals who heard them perform and they were soon getting invitations to perform at various festivals. It wasn't long before Russian immigrants started attending their gigs, crying and singing along with them. Even the Russian ambassador to Australia came to see them sing at one point.
But their big break was when one of their performances was broadcast on Russian national television and went viral in the motherland. Millions of people loved the idea of 28 men who didn't speak a word of Russian performing their military march songs halfway around the world, and soon the group were getting invited to sing in Moscow's Red Square, in front of Vladimir Putin and a huge audience, during one of Russia's impressive military parades.
Sadly, the Covid-19 pandemic messed up Dustyesky's plans to visit the Motherland. Still, they got the opportunity to record a clip from their own homes during the lock-down, which was later edited into a special performance by Russia-Today TV.
"Millions of people have watched it and I've been getting hundreds and hundreds of comments from Russian people saying, 'you guys are amazing, this is incredible'," Andrew Swain said. "It turns out that Russian people are really generous and are quite forgiving about pretty crappy accents."
So yeah, if you didn't know, a Russian choir made up of 28 Australian guys who don't speak Russian is actually a thing. It's called Dustyesky and it is awesome!