72-year-old Irmela Mensah-Schram is a special kind of cleaning lady. For the last 31 years, she has been travelling across Germany, cleaning its streets of hateful messages, be they propaganda posters or graffiti. She has received death threats from neo-nazis and the police have fined her numerous times, but she continues her fight against racism, antisemitism and xenophobia.
Armed with a small scraper and a can of spray-paint, Irmela Mensah-Schram, a.k.a. Germany's "Hate Destroyer" has been removing or covering up Nazi propaganda and other right-wing slogans across her country for over three decades. For many, she is a hero fighting against hate, while some consider her actions to be in violation of freedom of speech, and even state officials have mixed feelings about her. She has received several awards for her long-term efforts to keep hateful propaganda off the streets, but she has also been fined and even taken to court for damaging others' property.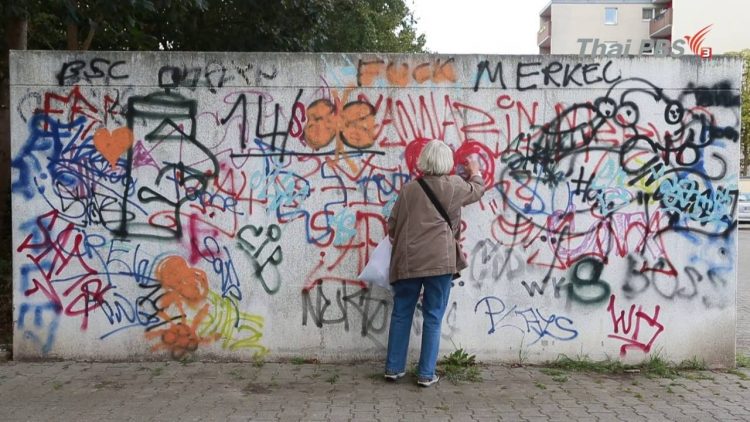 Photo: YouTube screengrab
Irmela Mensah-Schramm grew up in Stuttgart and didn't really experience the hate associated with racism until she married an African man. After seeing the looks on other people's faces as they passed them by on the street, the humiliating interrogation process at the immigration office and witnessing her husband being physically attacked on a bus, she learned first-hand how toxic things like racism, antisemitism and xenophobia were for society, and decided to do something about it.
The "Hate Destroyer" removed her first hateful sticker in 1986. She was about to get on a bus in her home city of Berlin, when she saw a sticker glued to the bus station that read " Freedom for Rudolph Hess", a prominent political figure in Nazi Germany, who was still in prison at the time. She just yanked it off and immediately felt better. So she kept doing it whenever she saw similar right-wing propaganda, and eventually started traveling across the country with the sole purpose of cleaning the streets of such hate-promoting messages.
Her work has gotten her some recognition, like a medal from the Federal Employment Service and the Gottingen Peace Prize, but also a lot of trouble. She has received several death threats from neo-nazis throughout the years, and was once hit in the head with a big rock that caused severe bleeding. She has also gotten in trouble with the law for destroying property. But none of this has slowed her down one bit, as she continues to track down and remove as much hate from the streets of Germany as she possibly can.
Irmela knows that hers is a Sisyphean task, as for every hate message she removes, another pops up somewhere else, but she simply shrugs and says "If I don't do it, who will?"
The 72-year-old says that racist and xenophobic propaganda has gotten worse since the European refugee crisis began, and told the Badische Zeitung that "Muslims today are like Jews in Nazi Germany".
Irmela Mensah-Schram now has a collection of thousands of stickers and posters she has removed in the three decades spent erasing hate, which she sometimes exhibits at museums in Germany.
"Some people tell me I am intolerant, that I don't respect the Far Right's freedom of speech," Irmela told CNN. "But I say freedom of speech has limits, and it ends where hatred and contempt for humanity begins."