A Vietnamese street food stall owner has become known for his fascination with gold jewelry. Every day, he walks around Ho Chi Minh City with up to 5 kilograms of gold on his body.
34-year-old Đỗ Ngọc Thuận, aka 'Seven Ball', has been fascinated with gold for as long as he can remember. When he became an adult, he started buying his own bling and flaunting it on the street. Having people stare at him as he walked on the street or when he stopped at traffic lights only encouraged him to up his jewelry game so he invested most of his money in it. Later on, when he opened his own hotpot and snack stall in Ho Chi Minh, he put on an absurd amount of gold to attract more attention to his business, and with the advent of social media, he gained even more attention from the masses.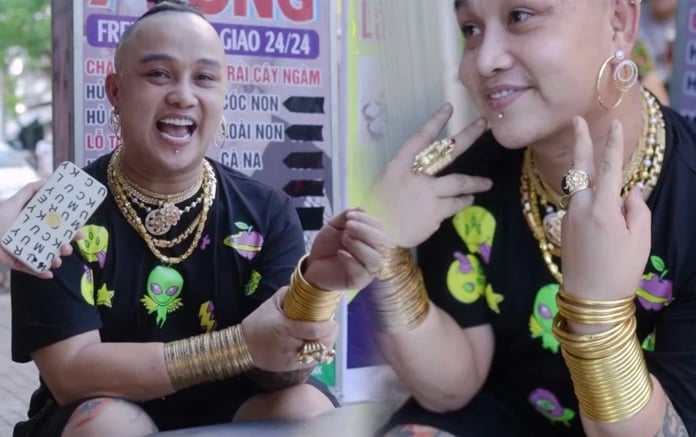 "Before, when I was not popular online but I wore a lot of gold, every time I stopped to wait for the green light, I saw many people pointing and admiring," Thuận recently told Vietnamese reporters. "Later, when I opened a hotpot and snack shop, I decided to wear more gold to attract attention, and also so that guests who came to eat could ask for good luck."
Seven Ball currently wears 10 gold rings, a total of 30 gold bracelets, and over a dozen thick necklaces whenever he goes out, be it for walks or to his workplace. And that's not counting the large earrings and the ankle bracelets and toe rings. In total, he allegedly wears around 100 taels (5 kilos) of gold every day.
The gold jewelry enthusiast has become quite recognizable thanks to social media, but while some envy and praise him, others criticize and even accuse him of wearing fake jewelry for clout. To those people he issues a challenge – prove that any of his jewelry is fake and he will give up his habit of wearing gold; otherwise, any accuser has to pay him 5 million dong ($215).
"In my city, everyone knows that I have been wearing gold for a long time," Đỗ Ngọc Thuận said. "Now anyone in doubt can go with me to the gold shop to verify, if it is proven that I am wearing fake gold, I will give it all away. If the gold I wear is real gold, they give me 5 million."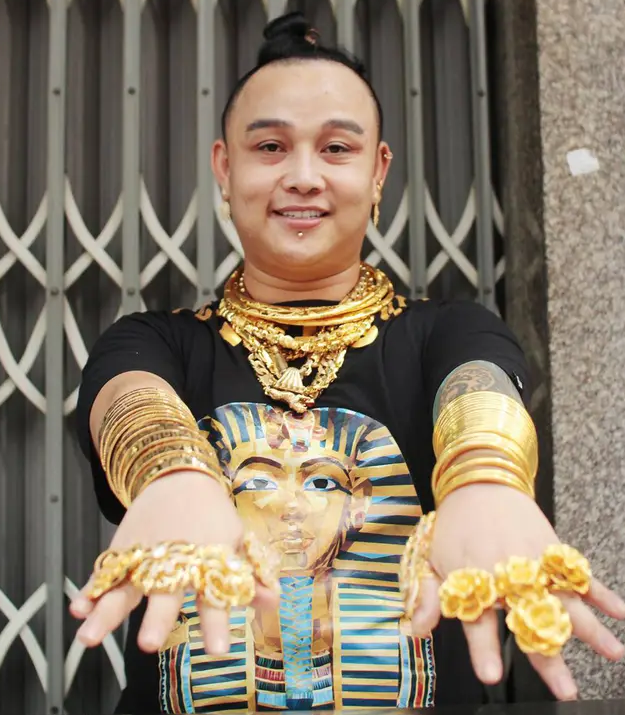 Thuận claims that ever since 2008, when he started wearing large amounts of gold jewelry, he has only been in danger of being robbed two times. The first instance occurred one late evening in 2014, when he noticed a group of people following him around. He ran inside a convenience store and the suspicious group left after hanging out in front of the store for a while.
The second time, he was driving and someone in another car told him to pull over to have his documents checked. He initially fell for their trap, but after realizing that they weren't police, he ran away while shouting for help. One of his assailants managed to grab one of his chains, but Đỗ Ngọc Thuận managed to grab it too, so the thief only escaped with the pendant.
But despite experiencing such incidents, Thuận says that he only hires bodyguards for protection when going out of town, because everyone in Ho Chi Minh knows him and his style.
Vietnam's fascination with gold is well-known around the world. Not only is the Asian country home to a tower covered in real gold, but to a number of colorful characters who like to flaunt their many large gold jewels. One gold-obsessed businessman wore 13 kilos of gold everywhere he went, and this other guy even had his car gold-plated.