An Icelandic brewery has been getting a lot of attention because of its newest creation – a holiday beer that tastes like green peas and pickled red cabbage – which has been selling like crazy.
Ora jólabjór, the beer that has taken Iceland by storm, is brewed by RVK Brewing in a modest Rejkiavik brewery with an annual capacity of 50,000 liters. Master brewer Valgeir Valgeirsson had already made beer from unusual ingredients like seaweed or even dried fish, so when he received a call from preserved vegetable company Ora about a possible collaboration, he welcomed the challenge. Traditionally used as a side dish for smoked lamb leg and potatoes at Christmas, the preserved peas and pickled cabbage proved an excellent brewing ingredient, as the first batch of the unusual beer sold out in just six hours.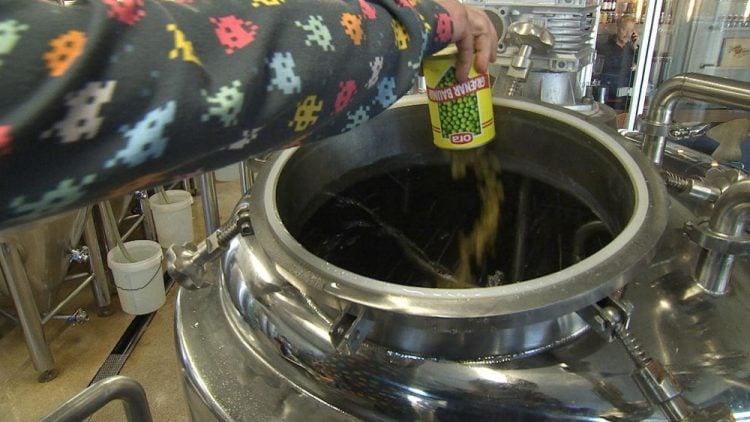 Photo: RUV.is
41-year-old Valgeirsson makes his now-famous Ora jólabjór beer by mixing the red cabbage and peas with malted barley, hops, and cloves, among others. The result is surprisingly pleasant to the taste, if those who have tried it are to be believed.
Apparently, although the taste of peas and pickled cabbage is not particularly enticing for the rest of the world, it's an iconic combination that Icelanders associate with the winter holidays, hence the surprising success of Ora jólabjór.
View this post on Instagram
"I was surprised at how good and pleasant it was, compared to when you see the peas and red cabbage being poured into the brewer," one Hédinn Unnsteinsson told AFP.
Only available through Vínbúdin – the state-owned store that monopolizes alcohol sales in Iceland – Ora jólabjór costs 475 krona per 330ml can, but is out of stock at the time of this writing.
For more unusual brews, check out this beer made with recycled sewage water, or this completely clear, alcohol-free beer from Japan.