Government office workers in the Indian city of Banda, Uttar Pradesh state, recently drew a lot of attention online for wearing motorcycle helmets indoors to prevent head injuries in case the roof collapsed on them.
Photos of electricity department employees working at their office in Banda while wearing these large motorcycle helmets on their heads have been doing the round on social media ever since Indian news agency ANI shared them online. According to several sources, the government employees aren't huge motorcycle fans, they're just wearing the protective head gear in case the roof of the dilapidated building they work in starts to fall apart. They told reporters that they first reported the dangerous state of the office building several years ago, but no one did anything about it, so they decided to start wearing helmets.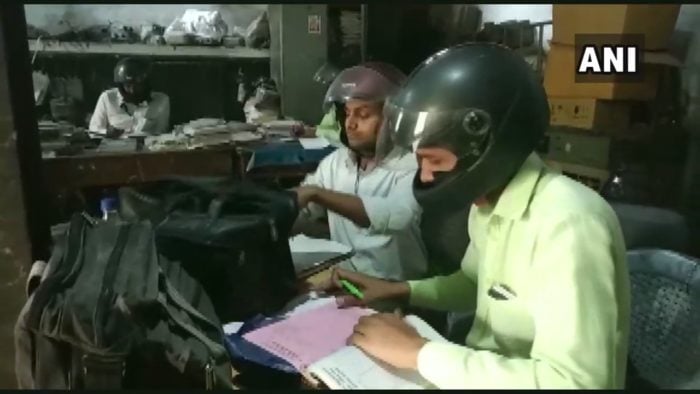 "It's the same condition since I joined 2 yrs ago. We've written to authorities but there is no response," one of the employees, who preferred to remain anonymous, told ANI.
India Today reports that the office workers aren't exaggerating one bit. The roof has holes in it, and there is a pillar in the middle of the room keeping it from falling apart.
Interestingly, this isn't the first time office workers in India made news headline for wearing motorcycle helmets indoors. Back in 2017, we wrote about office workers in a dilapidated Government building in Bihar, India, who had been forced to wear helmets at work for the exact same reason.