A Brazilian man was recently arrested after jumping on stage during a Passion of the Christ theater play and hitting an actor playing a Roman soldier over the head with a motorcycle helmet, in a bid to save Jesus from getting crucified.
The bizarre incident took place last week, in the Brazilian town of Nova Hartz, during a staging of the Passion of the Christ organized by the municipality. Over 1,000 people had gathered in the town square to watch the play in celebration of Good Friday, but none of them anticipated the twist that was to come. During the crucifixion act, as one of the actors playing a Roman soldier pretended to stab Jesus with his spear to check if he was dead, a man from the audience climbed up on stage and hit him over the head with a metal motorcycle helmet.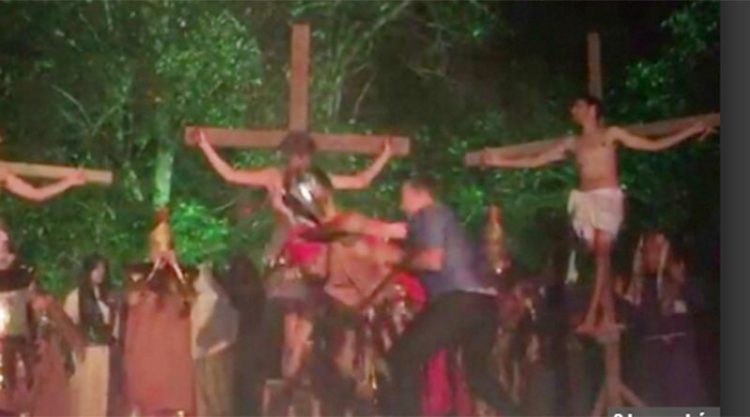 "The man leapt up from the middle of the audience and no one guessed what he was about to do," city planning director William da Silva told reporters. "Witnesses reported the attacker was shouting 'he was not going to let Jesus die' before he barged on stage."
Videos circulating online show the man hitting the actor over the head pretty hard, causing him to stagger, as his shocked colleagues scramble to restrain the aggressor. The play is stopped for a few moments, as the man continues to exchange punches with the men trying to hold him down, but he is eventually removed from the stage.
According to the organizers, Samir Rodrigues, the actor who suffered the blow to the head was scarred and shocked by the attack, but otherwise unharmed. Apparently, a local businessman had paid for new Roman soldier helmets, which probably saved the man from a serious concussion.
As you can imagine, the audience was both shocked and disappointed by the bizarre occurrence.
"We had to do a double-take because we weren't sure whether this was meant to happen or not," one spectator said. "When I realised it was truly an unprovoked attack, I started to tremble and cried with disappointment at how the theatrical performance had been messed up by this violence."
As for the attacker, he was taken into custody by local police. His brother later said that he suffers from a mental illness and had suffered a psychotic episode, but the Daily Mail adds that he has a history of drug abuse and is known to police.