A Western Australian man claims to have successfully cooked a whole pork roast by leaving it inside a car for about 10 hours on a very hot day. Although he conducted the experiment for fun, the man did warn people not to leave their kids or pets in their cars during the summer.
Stu Pengelly, from Perth, in Western Australia, decided to see what would happen if he left a 1,5 kg pork roast on the front seat of his old Datsun for ten hours on a hot summer day. He put the meat in at around 7 a.m, when the thermometer showed a bearable 30 degrees Celsius (86 Fahrenheit) inside the beat-up vehicle, but by midday, temperatures reached a scorching 81 degrees Celsius (more than 177 Fahrenheit). Pengelly monitored the temperature throughout the day, and when the ten hours were up, he took the pork, sliced it and even took a few bites to show that it was cooked.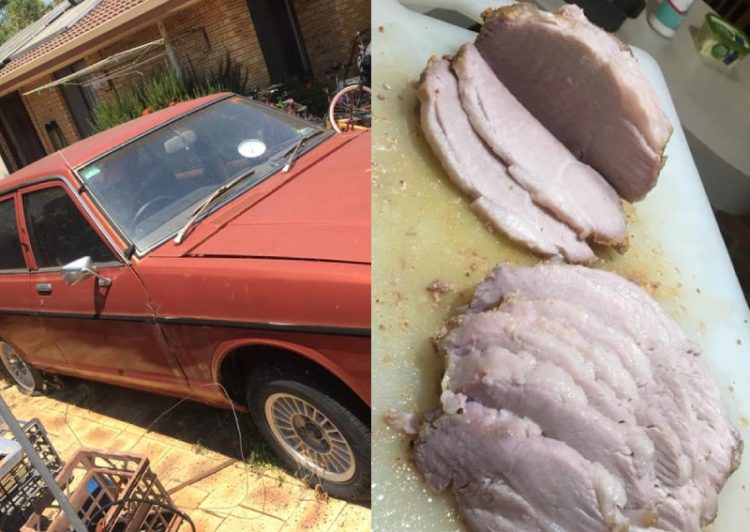 Photos: Stu Pengelly/Facebook
"Yesterday, I cooked [a] 1.5kg pork roast inside an old Datsun Sunny for 10 hrs on a 39 degree day. It worked a treat!" the Australian man wrote on Facebook, adding that he planned to try a beef roast next, if the extreme heat kept up.
"Things to note… it has tinted windows, door & window seals are shot & there is a big rust hole in the roof, which stops the car getting as hot as it potentially could," the Australian man clarified. "If this was a later model vehicle & painted black the temperature at a guess could climb significantly higher."
Even though Photos posted by Stu Pengelly on Facebook show that the pork roast isn't exactly well done, you can clearly see that the meat is cooked, and he even took a few bites, claiming that all it needed was a bit of salt and pepper.
Pengelly isn't the first Australian to have made news headlines to have allegedly cooked a piece of meat by simply leaving it in a car on a hot day. In fact, earlier this year a man from Mildura, in the state of Victoria, got his five minutes of online fame after cooking a steak in his car.