A dog food company CEO ate nothing but canine chow for a whole month, to show that if it was good enough for him, it's good enough for dogs too. If that makes any sense…
Mitch Felderhoff, president of Texas-based Muenster Milling, ate nothing but dog food made by his company for 30 days, from January 3 to February 2. Muenster Milling produces high-quality dog foods and treats, horse food, chicken feed, and the executive wanted to demonstrate the quality of the dog food by eating it himself for a month. It wasn't the easiest thing in the world to do, as Felderhoff himself admits, but he found the strength to stick to the diet for the full 30 days.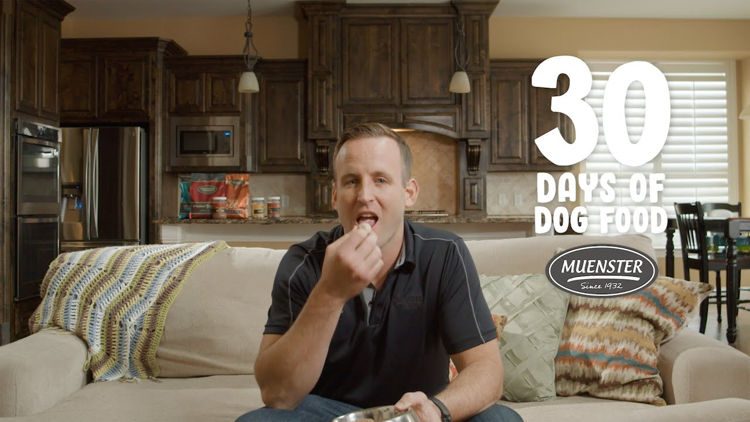 "Dog food is not easy to eat. It tastes like it smells," Mitch Felderhoff said. "As I went through that first week, that first four days was really tough. I didn't feel good. One of the things I did that was key is that I did do some intermittent fasting."
The dog food executive said that the first week was pretty tough, but by the third week he grew accustomed to the pet food palate to a point where the Ancient Grains, oceanfish, and meatballs became his favorite treats. In one of the videos he mad during this challenge, Mitch says he feels excellent, "with the exception of really missing the flavor of normal food that we get to eat".
A lot of people asked if Felderhoff really went 30 days without eating anything but dog food, and the business owner claims that he did. He doesn't advise anyone else to do it, but he just felt that he needed to show Muenster Milling clients the dedication of his team for creating the best possible dog food.
"We're not going to feed your dog something unless we've eaten it first," Felderhoff says in a video.
At the end of the 30 days of dog food, Mitch Felderhoff said that he had lost a whopping 30 pounds, and his colleagues at Muenster Milling joked that the special diet had had some other positive effects on him.
"Mitch's coat is really shiny now," customer relations manager Kent Barnes joked. "We've noticed that. His hair is getting thicker, and I believe he's growing hair on his knuckles as well."
The first things that the Muenster Milling co-owner ate after completing his 30-day dog-food eating challenge were pulled pork nachos and stuffed jalapenos.