An Indian man was found guilty of murdering his wife by renting a cobra to bite her and make it look like an accident, so he could take her jewelry and marry another woman.
In what has been described as a modern murder mystery, a young man from the Kollam District of the Indian state of Kerala was convicted of arranging and carrying out his wife's murder with the help of a venomous snake. The heinous crime took place in May of 2020, but investigators needed over a year to collect the necessary evidence to charge the husband. In fact, the 32-year-old man might have gotten away with murder if not for the wife's parents, who suspected foul play and filed a complaint against him.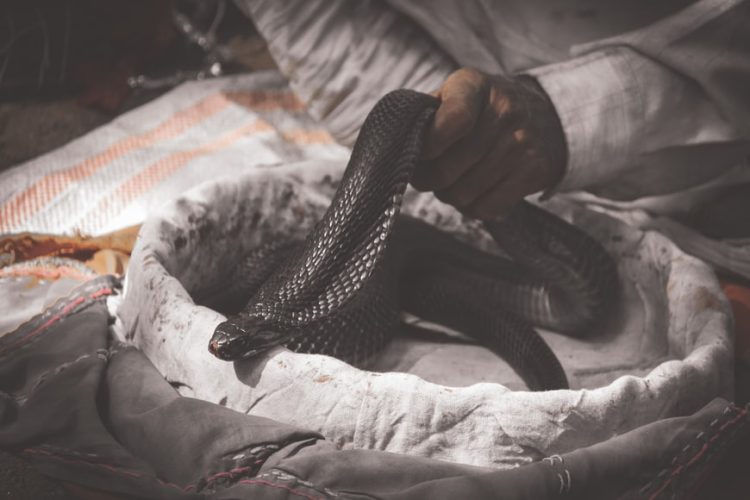 Photo: Meet Konkani/Unsplash
Prosecutors managed to prove that in March and May of last year, P. Sooraj used a cobra rented from a local handler to poison his own wife, Uthra. During the first attempt, which was carried out in the couple's home, where they lived with their one-year-old child, Uthra was bitten by one of the snakes, but she managed to survive.
Then, on May 6th of last year, while she was recovering from the first snake bite, Uthra suffered another snake bite, which this time proved fatal. Investigators claimed that P. Sooraj was the one who brought the venomous cobras and had them bite his wife, on both occasions. They produced evidence that the 32-year-old had researched snake handling and deadly snake bites on the internet for months, before contacting a snake handler and learning how to safely handle them.
Police managed to track down the snake handler who admitted to training Sooraj to handle the snake and even providing him with a specimen, which he then used to try and kill his wife, on two occasions. The second time, he allegedly mixed sleeping pills in Uthra's drink and then released the cobra on her, even provoking it to bite the woman twice. He then remained awake the whole night, to make sure the cobra didn't bite him as well.
In the morning, Sooraj pretended to be shocked after discovering Uthra's dead body, but the woman's parents didn't buy it. For months, the 32-year-old and his family had harassed their daughter for dowry, despite receiving gold, ₹5 lakh cash ($ 6,629), and a car, when they got married. They filed a complaint against Sooraj, accusing him of setting up the whole thing.
P. Sooraj and his family immediately tried to shift the blame, filing a complaint of their own against Uthra's brother, whom they accused of wanting to inherit the entire family fortune. However, when the police launched their investigation, it became clear that Sooraj's claims held no weight, and that he had a lot to hide.
Lacking any witnesses and direct circumstantial evidence, prosecutors relied on scientific and technical evidence to prove the husband's guilt, going as far as to conduct a test with a snake to show the difference between natural and induced bite marks. More evidence was collected with the help of herpetologists, forensic experts, forest officials, and snake handlers.
"In natural (accidental) bite, marks will spread to 1.7 to 1.8 cm but in Uthra's case, it was 2.3 to 2.8 cm. That surely showed pressure was induced on the cobra," an investigation officer told Hindustan Times.
During its investigation, the Special Investigation Team also discovered that Sooraj was planning to marry another woman, and was trying to get his hands on Uthra's jewelry.
"I am happy finally my daughter got justice. We expect maximum punishment for Sooraj. We pray no other parents should undergo our experience," said Uthra's father, Rajasenan, after the judge found P. Sooraj guilty of murder.