Lance Wooton, a 32-year-old IT supervisor from Kentucky, has has made a worldwide name for himself thanks to his incredibly luscious, waist-long beard.
Wooton started growing his facial hair in June of 2014 to compliment a pirate costume he planned on wearing for Halloween. By the time October came around, he had already grown an impressive-looking beard, which happened to draw the attention of a friend who owned a local barbershop and invited him to check out some beard care products. He didn't even know such things existed, but he bought some, used them on his beard and posted photos of the results on social media. That's how he got invited to his first beard competition, where he was introduced to a tight community of passionate beard growers. He was instantly hooked, and decided to keep growing his beard, even though everyone around him told him to shave it off. Today, his luscious facial hair measures 2.5-feet and reaches down to his waist.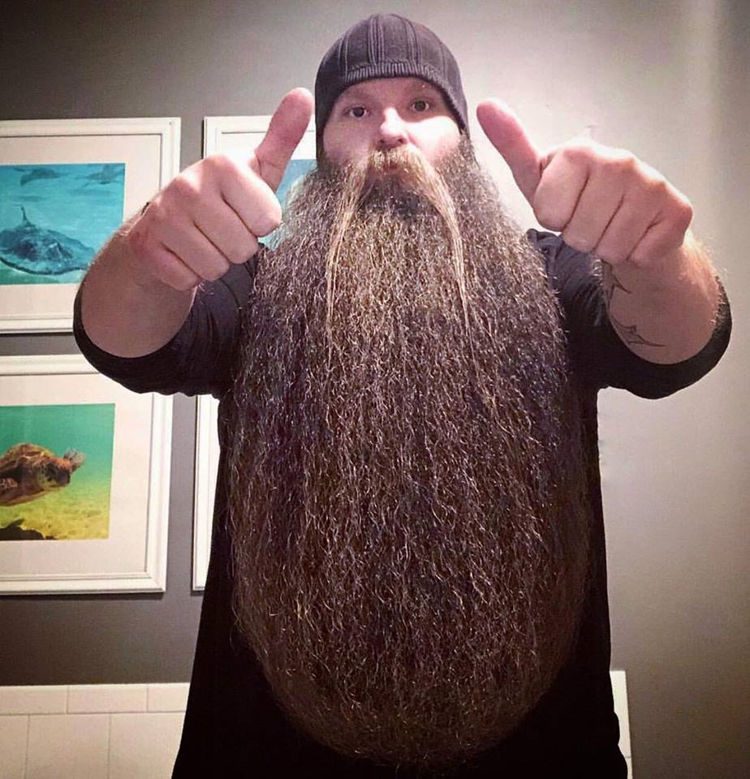 Photo: Lance Wooton/Instagram
Over the last five years, Lance has participated in over 30 beard competitions all over the world, getting second place in the all-natural category in the United States, and 4th in the Full Beard Natural category, worldwide. He managed to find sponsors that supply him with all the beard care products he needs, and even landed a part in a 2018 movie starring Johnny Knoxville of "Jackass" and Emelia Clark of "Game of Thrones".
View this post on Instagram
"I thought to myself I bet I can grow a big beard and here we are five years in the making and I am fourth in the world and second in the nation," Wooton told MediaDrumWorld. "I have had some folks thinks it's crazy or ridiculous, but I pay no mind. It hasn't changed my love life at all really that I can tell. If a beard got in the way of love, then is it really love?"
View this post on Instagram
Maintaining a beard that's nearly three feet long and 12-inches wide isn't the easiest thing in the world, and Lance admits that he dedicates much of his time to making sure his beard is always in perfect condition. He oils and combs the hair at least twice a day, makes sure it's nice and even, and makes sure never to over wash it or abuse it. His girlfriend acts as a makeshift bodyguard for the beard, making sure no one gets handsy with it.
View this post on Instagram
"If someone comes toward him and starts to go for it, I'm like uh uh," she said. "Or, I'll see someone heading that way and block them."
View this post on Instagram
Although he's incredibly proud of his beard, Lance Wooton admits that it can be a hassle in his everyday life. Windy days are particularly annoying, but eating, swimming and having to deal with the same old questions (e.g.: 'how long have you been growing it?') and random people trying to grab it can get pretty annoying.
View this post on Instagram
Still, he doesn't plan on shaving his beard anytime soon. It has gotten him world wide attention, sponsors and given him an opportunity to travel the world, so he feels like the pros definitely outweigh the cons.
View this post on Instagram
To keep an eye on Lance Wooton and his luscious beard, follow him on Instagram.