Unless you're a passionate gardener, the only types of cabbage and kale you know are probably the ones grown as food, but there are quite a few ornamental types of cabbage as well, grown only for their beauty.
If you're looking for something to brighten up your garden in the autumn and winter seasons, ornamental cabbage is definitely an alternative worth considering. While regular kale and cabbage can be traced back 4,000 years, the ornamental types rose to prominence in 17th century Japan, where they became a centerpiece of Japanese gardens. In the early 20th century, the U.S. Department of Agriculture sent Howard Dorsett to China and Japan to look for new plants, and the ornamental kale he saw in Japan was one of his favorite finds. Several varieties were brought to the States, and by 1936 they were available to mass markets.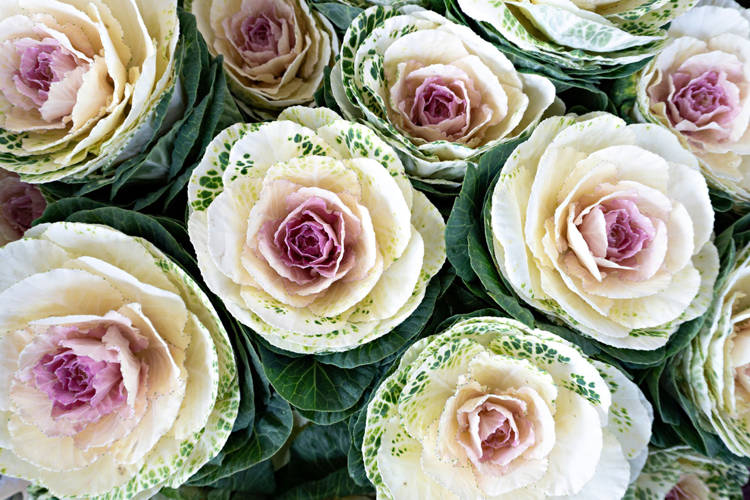 Photo: Gardening Know-How
While most people don't differentiate between flowering kale and cabbage, there is one visible difference between the two – ornamental kale has deeply cut, curly, frilly, or ruffled leaves, and ornamental cabbage has broad, flat leaves edged in bright contrasting colors.
View this post on Instagram
Both ornamental cabbage and kale come in three colors – purple, white or pink – and prefer cool weather, which means they won't develop their full colors unless they get a good chill from a frost. They can survive temperatures as low as 5 degrees Fahrenheit (-15 C), so unless the weather gets too harsh, they can decorate your garden all winter.
View this post on Instagram
Ornamental cabbage is technically considered edible, but it's not nearly as tasty as the regular variety we normally eat. It has a very bitter taste, so it's most often only used as garnish, although a double boiling method can be used to reduce bitterness. The only notable exception is the 'Tokyo' variety of ornamental cabbage, which reportedly tastes delicious.
View this post on Instagram
As Japan is credited as the birthplace of ornamental cabbage, the most popular varieties originated there. Nagoya kale, Chidori kale, and Osaka cabbage are some of the most notable examples.
View this post on Instagram
Whether planted in containers, in front of a border, or in mass plantings, ornamental cabbage can be stunning to look atm rivaling some of the most beautiful flowers. And they're freely available too, with seeds sometimes costing less than those of bland flowers.
View this post on Instagram
View this post on Instagram
View this post on Instagram